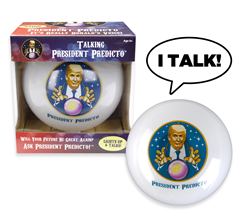 Simply a ball of laughs - no matter which side of the political spectrum you're on!
CLEARWATER, Fla. (PRWEB) November 23, 2018
Florida's hotly contested political races may have divided voters, but there is one Florida resident who's uncovered a simple way to rally individuals on both sides of the isle—and that's through laughter and the new President Predicto™ Magic Fortune-Telling Ball. An enlightened, updated TALKING iteration of the vintage "Magic 8 Ball," President Predicto™ has arrived just in time to unite family, friends and colleagues in laughter this holiday season. Priced at $15.95, President Predicto™ makes a perfect stocking-stuffer, novelty gift or party game. President Predicto™ is available at Amazon.com for 15% off when using the coupon code "PREDICTO."
Green Straw, LLC President Jay Kamhi, the creator of the President Predicto™ is already seeing great responses to the new toy. "People love it. It's literally a ball of laughter. Ask President Predicto™ a question and he speaks the answer in Trump's actual voice. I'll leave it up to the skeptics to decide whether Trump possesses mystic powers, or if it is simply "fake news," Kamhi states.
Fans of the original Magic 8 Ball, Ouija board game, and spirit crystal balls love President Predicto™! The ball is motion activated by a wave of the hand and plays spooky music, lights up and talks while "President Trump" delivers his answer. There are 25 possible positive, negative or neutral answers and at 3.6" tall & 3.8" in diameter, President Predicto™ is conveniently small, lightweight and can be easily stored in a purse or backpack for on-the-go predictions!
A veteran novelty product manufacturer, Kamhi has a knack for creating products that resonate with consumers. For over 30 years Kamhi has produced fun, light-hearted collectible items that make people laugh. The first to introduce the talking pen, Kamhi knows how to capitalize on pop culture and disarm polarizing topics by infusing laughter— with items like his popular Donald Trump Talking Pen, Barack Obama "Yes We Can" Pen, Hillary Clinton Laughing Pen. President Predicto™ can be used at party games for adults, no matter their political affiliation. It is available just in time for the holiday gift-giving season at Amazon.com.
ABOUT GREENSTRAW, LLC
President Predicto™ is a product of Green Straw, LLC. Founded in 2015 by veteran novelty item manufacturer, Jay Kamhi, Greenstraw, LLC produces funny, original pop culture toys and novelties that talk. The creator of the talking/singing pen, Jay Kamhi has consistently produced best-selling collectible merchandise by keeping his finger on the pulse of pop culture trends. Kamhi got his start 30 years ago and made his first big splash with the Napoleon Dynamite Talking Doll. Next, Kamhi began creating products based on the outrageous characters from popular shows such as Hannah Montana, High School Musical, Shrek the Third, Family Guy, 40 Year-Old Virgin and many more, along with the wildly popular "political" talking pens featuring the voices of Hillary Clinton, Barack Obama and now, President Donald Trump. Three million pens later, Kamhi is still at it, with Mr. Predicto and President Predicto™ — the TALKING magic fortune-telling balls that know everything! Kamhi's products have been seen on national talk shows, including "The View" and "Sean Hannity." Kamhi's products are available at Amazon.com.