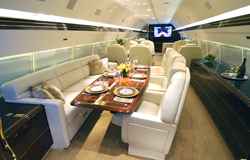 International Jet Interiors is known for creative solutions that address both budget and need.
Ronkonkoma, New York (PRWEB) January 18, 2017
Smart investment strategy is the foundation of every private jet completion that International Jet Interiors of Ronkonkoma, New York takes on. Where does it make sense to invest onboard? What is the latest in aviation technology and available upgrades? How to minimize downtime and maximize return on investment? All are questions that UHNW clients, royalty, celebrities, Fortune 100, aviation brokers, charter companies and industry leaders trust Eric H. Roth, President of International Jet Interiors to answer. President Elect Donald J. Trump is on that esteemed list of clients, as well.
Having an intimate understanding of the private jet market and a business acumen that focuses on the bottom line, Roth's record for enhancing the value of a private jet rivals a top baseball player's batting average. Removing the interior and refurbishing the tired, worn out cabin seats, headliner, carpet and under-padding is just the beginning of what can be accomplished onboard a private jet. Purposeful modifications to a floor plan and galley, creative integration and design of metal plating, customizing foam density and cabin seat design, refinishing wood veneer, upgrading the lighting and entertainment systems, and designing sophisticated, yet user friendly cabin management systems are all items that make a huge difference to the end user.
On Trump's Boeing 757 for example, phone discussions and several face to face meetings were held between Mr. Trump and Mr. Roth to achieve the luxurious end result. Minimizing downtime and keeping within budget were paramount.
The biggest mistake people make, according to Roth? "I've been onboard plenty of private jets where the owner was poorly advised, spent hard earned money, yet chose to overlook some of the most obvious aesthetic needs, creating an environment that falls short of expectations. Relate it to a man's suit," shares Roth. "It is quite difficult to carry off wearing a new, custom tailored suit with a perfectly fitted French cuff shirt and a sophisticated tie, while wearing scuffed, worn out shoes. At the very least, you would have the leather shoes polished and the soles enhanced if you chose not to completely replace them. The same is true onboard a private jet. Once you update an interior, the areas that go left untouched stand out even more and detract from the new." Roth continues, "International Jet Interiors is known for creative solutions that address both budget and need.There are smart options and we help identify where it makes sense to invest and where not to, depending on the long term goals and usage of an aircraft. We certainly won't allow a client to make financial mistakes and avoidable missteps."
Tune in to CNBC's TRUMP: THE BILLIONAIRE PRESIDENT on Thursday, January 19, 2017 at 10:30 PM ET for insight and exquisite 24kt. details found onboard Mr. Trump's Boeing 757 and Sikorsky S-76 helicopter - both designed by Eric H. Roth and his team at International Jet Interiors.
International Jet Interiors
International Jet Interiors is a leading boutique completion center, located in Ronkonkoma, New York. Capabilities include design, engineering, entertainment, cabin management systems, floor plan modifications, lighting, cabinetry, upholstery, finish, installation, avionics, galley outfitting and paint. A FAA and EASA approved completion center with extensive experience onboard Gulfstream, Boeing, Global Express, Challenger, Legacy, Falcon, Hawker and Sikorsky aircraft.
We invite you Experience Something Extraordinary®. Visit http://www.intljet.com for more information or contact IJI at 631.737.5900.