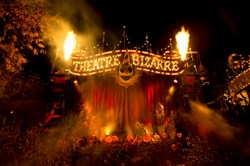 This will be the masquerade to end all masquerades; the stuff of dreams and legends.- John Dunivant
Detroit, MI (PRWEB) September 20, 2013
With support from the John S. and James L. Knight Foundation, the legendary Halloween bacchanal known as Theatre Bizarre returns once more in a marvelously macabre march called The Procession. This year, the celebration cannot be contained to just one night, and so, for the first time ever it will proudly open with The Procession Preview Gala: a decadent formal masquerade of unrestrained extravagance featuring an exclusive experience for the most dedicated Theatregoers.
John Dunivant, Kresge Fellow and creative force behind Theatre Bizarre, guides this year's Procession, basing it on his series of paintings The Expatriate Parade. "This will be the masquerade to end all masquerades; the stuff of dreams and legends." explained Dunivant who continued "The paintings explore the world of Theatre Bizarre by depicting its inhabitants celebrating and embracing a dark and glorious march toward the unknown."
Gala guests will enjoy selected performances from past shows, highlights from this year's show, and exclusive sets created especially for that night only. Costumed attendees will be led through a trail of fire-eaters, award-winning burlesque performers and musical acts as they follow the evening's path through the historic site.
Jason McCombs, Theatre Bizarre's project manager explains, "The Preview Gala will be refined, mysterious, and beautiful while still immersing attendees in the environment they've come to appreciate and expect from us over the years."
Since the turn of the century, Theatre Bizarre has been rollicking in the darkness. First, by creating a phantasmagorical (and entirely illegal) theme park in the shadows of one of Detroit's most dangerous neighborhoods. Providing an event worthy of its legendary status, built by an army of volunteers, it emerged for only one indescribable night a year. Each year it grew in scope and in detail, The New York Times exclaimed "Over-The-Top!" and Bizarre Magazine (UK) called it "One of the greatest Halloween parties in the world!" Until the city was forced to shut it down in 2010. Not to be dissuaded, Theatre Bizarre birthed a new world and revealed a new path in 2011. Lifting a veil on their own carnivalesque secret society and inviting the revelers to join them on a journey once more.
Since finding its permanent home at Detroit's Masonic Temple, Theatre Bizarre has been offering progressively grander and more decadent events to those lucky enough to know of it's legend. In late October each year, thousands of elaborately-clad attendees eagerly fill the labyrinthine stone hallways as they progress throughout the night from one indescribable performance to another, spanning seven floors of bands, burlesque, circus sideshow and things that have to be seen to be believed. Detroit's most adventurous denizens slipping past one another in costumed anonymity as they revel in their dark sides into the early hours of the morning; the debauchery only restrained by the capacity of the Temple. A problem now solved in grand style this year with the unveiling of the Procession Preview Gala.
In stark contrast to the thousands who attend Theatre Bizarre, The Procession Preview Gala will offer a new and far more intimate experience to just six hundred fortunate souls. With the Miami Foundation, Inc. as our non-profit fiscal sponsor, half of each Gala ticket sold is a tax deductible charitable donation. The night promises to be an elegant affair with an open bar, strolling dinner and valet parking included in the price of admission.
The Procession Preview Gala will be held on October 18th and The Procession will be held on October 19th, 2013 at The Masonic Temple at 500 Temple Street in downtown Detroit. Doors for each event open at 6:30pm. Included in the featured acts will be Miss Exotic World of 2010, Miss Roxi D'lite, Squidling Brothers Circus, Planet D Nonet, Black Jake & the Carnies and much, much more. Dinner, drinks and valet parking are included in the cost of admission for The Procession Preview Gala on Friday night. Food and drinks will be available for purchase at The Procession on Saturday night. All attendees must be 21 years of age or older. Costumes are mandatory.
Two-night packages and individual tickets for The Procession Preview Gala ($250) and The Procession ($65) are available online at http://www.theatrebizarre.com as well as locations and hours of select retailers.
Knight Foundation's support is a part of the Knight Arts Challenge, a community-wide contest funding projects that engage and enrich Detroit through the arts.
MEDIA CONTACT INFO
Threatre Bizarre LLC: Jason McCombs, Jason(at)theatrebizarre(dot)org, 248-761-2538
Knight Foundation: Andrew Sherry, media(at)knightfoundation(dot)org; 305-908-2677
About the John S. and James L. Knight Foundation
Knight Foundation supports transformational ideas that promote quality journalism, advance media innovation, engage communities and foster the arts. The foundation believes that democracy thrives when people and communities are informed and engaged. For more, visit KnightFoundation.org.
Photos included in this press release download are property of Theatre Bizarre .LLC and use of all images is restricted to press coverage about "October 18th (Procession Preview Gala) and October 19th (The Procession)" Events only. All photos must be credited to the photographer and cannot be distributed.
http://theatrebizarre.com/2013-theatrebizarre-procession-release/