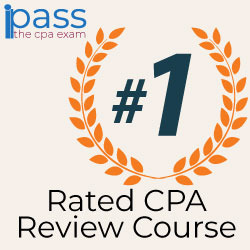 DEVON, Pa. (PRWEB) September 04, 2019
Surgent CPA Review was recently ranked as the top CPA Exam review course on IPassTheCPAExam, one of the industry's most comprehensive third-party review and resource sites for CPA Exam candidates. After taking an in-depth look into a variety of CPA Exam review course providers, Stephanie Ng, CPA Exam guide author and owner of IPassTheCPAExam, concluded:
"Surgent CPA Review provides candidates with an outstanding study program. Surgent CPA's course is the only one that offers CPA candidates a ReadySCORE that indicates when they are ready to sit for the exam. As a previous CPA candidate myself, I can't tell you how assuring it would have been to have known when I was really ready to take the CPA Exam. But now there's a technology that tells candidates this, which should allow them to leverage this information and sit only when they are ready to do so. Plus, it's the only course I've seen that demonstrates the ability to reduce a candidate's overall study hours."
ReadySCORE, the exam readiness metric that Stephanie describes, is a unique feature of Surgent's award-winning exam review software, A.S.A.P. Technology™. In addition to indicating a candidate's final readiness, ReadySCORE is also used as a benchmark at the conclusion of the assessment, and the Study Phase that follows it is broken out by content area, topic, and question type, so candidates can see clearly where their strengths and weaknesses lie. Surgent's advanced machine learning software uses each student's ReadySCORE to fully customize their study experience, focusing each session on their unique knowledge gaps and optimizing in real-time.
Stephanie Ng continues, "It's evident they really want their students to succeed, because they are so passionate and educated to making sure that candidates have the right information at the right time. Surgent CPA continues to focus on data and analytics as a driver for making improvements to their course. I haven't seen any other CPA review course make as many huge strides towards technology, like ReadySCORE, in the way that Surgent has."
Surgent has gained notoriety in recent years for its sophisticated and effective adaptive learning technology, earning awards and recognition from Accounting Today, the American Business Awards, eLearning Inside, and others. Surgent's students are getting exam-ready in 58 hours, on average, per section, and achieving pass rates nearly 40 points higher than the national average.
Learn more about Surgent CPA Review, or start a free five-day trial.
About Surgent Professional Education:
Surgent Professional Education has a 30-year history of leadership in accounting, finance, and tax education. For most of the company's long history, Surgent has been known as one of the most trusted providers of the Continuing Professional Education (CPE) that CPAs need to earn each year to maintain their professional credentials. More recently, Surgent has become one of the fastest-growing Exam Review course providers, offering prep courses for the Certified Public Accountant (CPA), Enrolled Agent (EA), Certified Management Accountant (CMA), Certified Internal Auditor (CIA), and Certified Internal Systems Auditor (CISA) exams.