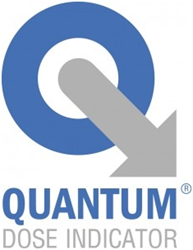 Presspart says their Quantum Dose Indicator offers peace of mind
(PRWEB UK) 19 January 2015
Presspart, the global leader of bespoke respiratory drug delivery components, has revealed that they have been working on a brand-new dose indicator solution which they hope will give metered-dose inhaler users total peace of mind. Known as the Quantum End of Life Indicator System, the indicator is a low-cost, disposable solution designed to ensure patients do not run out of life-saving medication.
Quantum was first introduced as a concept during November's RDD Asia 2014, held in Goa, India. The annual Respiratory Drug Delivery consultation focuses on industry updates and supports collaboration amongst academics in the field. This scientific conference also seeks to harmonise international regulations and global commercial development. As such, it was the perfect place for Presspart to showcase their latest development in the MDI market
The way Quantum works is uncomplicated, yet deceptively clever. The canister is fitted with a bias weight which allows the patient to test the level of drug formulation simply by removing the can, placing it on a flat surface and waiting for the can to settle. From there it is simply a case of placing the colour-coded Quantum Dose Indicator card against the arrow which is marked on to the bottom of the MDI can, which highlights whether or not the can requires replacing depending on the amount remaining inside.
The Quantum End of Life Indicator has several key specialist features, including:

Low-cost
Intuitive
On can design
Compatible with all current actuators and market valves
No mechanical movements
Compatible with current filling and packaging lines
The patented End of Life Indicator is built into the MDI canister, meaning that it is suitable for all current market valves and actuators, and with no mechanical parts users can rest safe in the knowledge that they have a safe and reliable end of life calibration system. Presspart have hailed the creation of Quantum as the ultimate in peace of mind, a low-cost and disposable development which can assure patients that they will not run out of their all-important medication when they need it most.
Presspart is the market leader in bespoke deep-drawn and injection-moulded components for the pharmaceutical and other specialist industrial markets. They have decades of experience in precision manufacturing, partnering with the world's leading pharmaceutical companies to assist with the product and device development process as new drugs come on to the market. With a specialist emphasis on metered-dose inhalers and actuators, they understand that there is nothing more important than enhancing the quality of life – from the broadest concept to the smallest detail.
For more information about Presspart or to learn more about their work, please visit http://www.presspart.com.