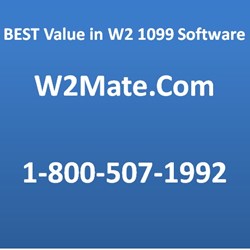 Free W2 Software demo available at http://www.realtaxtools.com/
(PRWEB) September 05, 2013
Pressure Seal W2 Forms are used by large employers such as banks and educational institutions that need to process large volumes of W2 forms at year end. Real Business Solutions (http://www.W2Mate.com) is pleased to announce that their W2 Mate® software now supports printing pressure seal W-2s on 8.5 X 14 inch paper sheets.
W2 Mate is distributed electronically for instant download over the Internet. The software can also be shipped on a CD. A free fully-featured demo version is available at http://www.realtaxtools.com/ for evaluation.
Real Business Solutions has been developing year-end compliance software and solutions for small business and accounting professionals for over 10 years. W2 Mate 2013, the W2 1099 processing program offered by the company, provides compliance tools for paper and electronic filing of 2013 federal and state 1099, W-2 and series forms including W2, 1099-MISC, 1099-INT, 1099-DIV, 1099-R, W-3, 1096, 1099-S, 1098-T, 1098, 1099-A, 1099-B, 1099-C, 1099-K, 1099-PATR and 1099-OID.
W2 Mate 2013 can import and E-file W2 and 1099 forms for the following QuickBooks versions: QuickBooks Pro., QuickBooks Premier Accountants Edition, QuickBooks Premier Professional Services Edition, QuickBooks Premier Contractor, QuickBooks Premier Nonprofit Edition, QuickBooks Premier Manufacturing & Wholesale and QuickBooks Enterprise Solutions. W2 Mate can also process 2013 / 2014 wage statements and information returns for Microsoft Great Plains, Microsoft Dynamics GP /SL, Sage MAS 90, Sage MAS 200, SAP, Sage Peachtree, Sage 50 and Sage DacEasy
W2 Mate Software Highlights:

SSA-approved to print W2 and W3 forms on regular paper including government copies.
Imports W2 data from EFW2 format.
Unlimited 2013 W2 electronic filing submissions using the EFW2 format.
Supports an unlimited number of 1099 Filers and unlimited number of employees and 1099 recipients.
Fills in pre-printed 1099 Copy-A forms and prints other 1099 copies such as recipient and payer copies on plain paper using black ink.
Unlimited 2013 1099 E filing using IRS FIRE System (No per form fees and No data transmission charges).
Creates 2013 employee W2's as PDF and recipient (vendor) 1099's as PDF.
Data import from Sage Peachtree, MS Dynamics, Great Plains, Intuit QuickBooks, Sage DacEasy, Excel and CSV.
Efficient and intuitive manual W2 / 1099 data entry.
Supports 1099MISC, 1099K, 1099INT, 1099DIV, 1099R, W2, W3, 1096, 1099S, 1098T, 1098, 1099A, 1099B, 1099C, 1099PATR, 1099OID.
Automatically calculates Social Security and Medicare taxes. For paper filers 1096 and W3 are automatically generated.
Supports Windows 8, Windows 7, Windows Vista, Windows XP, Windows Server 2003, Windows 2000 or Windows 98.
Roll-over of payer and recipient information from year to year.
Password protection and data validation.
Generates printing labels, form totals and recipient lists.
Prompt, courteous and reliable U.S.-based support through phone, chat or e-mail.
Network ready with affordable pricing for multiple seats.
Exports W2s and 1099s to excel.
Includes 1099 and 1098 filing instructions.
TIN matching and verification including reports for missing TINs and TIN matching errors.
On-premise software solution to be installed on individual computers / workstations.
Prepares 1099s for a contract workers.
Helps filers meet 1096 and W3 due dates for 2013.
A free 2013 W2 tax reporting program evaluation can be downloaded from http://www.realtaxtools.com/W2-Mate.html . Customers can purchase the software and receive it instantly.