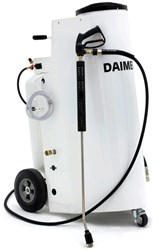 Daimer® is excited to offer the Super Max™ 7000 that helps clean the most inaccessible nooks and corners of sophisticated metal working equipment.
Woburn, MA (PRWEB) August 16, 2013
Daimer Industries, Inc.®, the internationally trusted name in cleaning machines, including smartly-manufactured auto detailing machines such as eco-friendly car wash equipment and many more, featuring an extensive customer base distributed across hundreds of nations, is now presenting the new Super Max™ 7000, an electric-powered pressure washer equipped with the right attributes needed to maintain metal working equipment. The machine, powered by a heavy-duty 1.5 HP NEMA engine, features high pressure levels and high temperatures to ensure superior cleaning results.
"Metal working machinery used in industrial settings is often exposed to high amounts of dust, dirt, metal shavings, and grease. Over time, the accumulation of such deposits can hamper the proper functioning of these machines, leading to serious maintenance issues that adversely affect the work flow," says Daimer Industries, Inc.® spokesperson Matthew Baratta. "Daimer® is excited to offer the Super Max™ 7000 that helps clean the most inaccessible nooks and corners of sophisticated metal working equipment."
Daimer® is the most trusted name in cleaning machines featuring more than 700 versions of highly advanced cleaning systems marketed to 240+ nations across the globe. To cater to the growing demands and cleaning requirements of customers, Daimer® continues to integrate the latest technologies in its extensive line of pressure washer machines. The combination of quality components, rugged construction and cutting-edge technologies make these machines unmatched in terms of efficiency, durability, reliability, and user safety.
The tools used in today's industries are more complicated than ever before, and therefore require the use of complex metal working machines. As the type of machines continues to evolve, so do the cleaning requirements. Daimer® has introduced an extensive range of electric-powered and gas pressure washer systems to cater these cleaning requirements to meet these changing needs.
The Super Max™ 7000 is an electric pressure washer specifically designed for maintaining the most complex pieces of metalworking instruments. Featuring pressure levels of 1000 psi, the Super Max™7000 is the perfect power cleaning system for use in industrial environments, such as tie and die industries, automobile manufacturing facilities and metal forging centers. The high pressure level, pressure, and temperature combine to clean and remove the toughest dirt deposits from metal surfaces.
The metalworking equipment used in making lathes, welding tools and etching machines can easily collect grease and grime and cease to function at their best. Grease is not very easy to eliminate without advanced cleaning machines. The Super Max™ 7000 is a versatile commercial pressure washer equipped with tri-mode functions. Consequently, the robust industrial pressure washer independently generates wet steam, cold water or hot water for different cleaning applications.
For heavy-duty and effective degreasing in industrial environments, the Super Max™ 7000 generates hot water at temperatures ranging from 180ºF to 210ºF and steam at extremely high temperatures of up to 330ºF. Heavy-duty heating coils in the machine convert cold water into hot water in just 30 seconds to enhance productivity. The hot water pressure washer also features the Adjustable Temperature Control™ (ATC™) technology that enables users to set the right temperature for different cleaning tasks.
The hot water pressure washer also features the unique Super-Hot™ technology that ensures the ejection of hot water and steam at consistently high temperatures even across long periods of use. Another notable aspect of the superior-quality pressure washer is the Steam Nozzle Optimized™ (SNO™) function that enables all steam nozzles to work in the wet steam mode. Conventional pressure cleaners offer just a single nozzle for steam.
The quality-cleaning electric pressure washer powered by propane features a low flow rate of 2.5 gpm. The low water flow contributes to substantially lower water required for cleaning tasks. The Long Hose Technology™ (LHT™) of the Super Max™7000 helps users to clean areas at large distances using hoses of even 300 feet, for instance, in length. The technology is a great way to enhance productivity, since users do not have to move the machine too often.
When electric-powered or gas pressure washer systems are subject to long hours of use in industrial settings to maintain metalworking machinery, the components of the cleaning machines can easily get overheated and succumb to wear and tear. To prevent such issues and subsequent maintenance problems, the Super Max™ 7000 comes with the unique Automatic-Shutoff Technology™ (AST™), which comes as an optional feature. If the trigger gun remains inactive for over 30 seconds, the machine will be automatically shut down. Users do not have to walk all the way back to the machine to turn it off. Pulling the trigger gun is all it takes to activate the system.
Cleaning metalworking machinery demands the use of advanced accessories capable of accessing all types of corners and tight spaces. The Super Max™ 7000 comes with a wide range of steam nozzles, all capable of working in the wet steam mode. The commercial pressure washer also features a high pressure steam hose and a durable trigger wand. The versatile hot water pressure washer is also ideal for other applications, such degreasing floors and maintaining walls.
In addition, the Modular System Design™ (MDS™) and Self-Maintenance Engineering™ (SME™) technologies of the best pressure washer make the replacement of parts easy for Daimer® customers very simple, no matter where the customer is located in the world.
For Additional Information:
To learn more about Super Max™ pressure cleaners, visit the supplier's official website or contact Matthew Baratta at (888) 507-2220. These pressure wash systems are marketed internationally to most countries.
About Daimer Industries, Inc.®:
Daimer Industries, Inc.® is the world-renowned supplier of commercial and industrial pressure wash systems totaling over 700 versions of the most advanced cleaning systems, including floor cleaners, carpet cleaners, steam cleaners, and auto detailers.