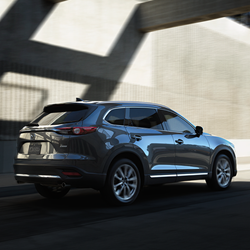 "We want our customers to be safe, have a great time and love how they feel when they get behind the wheel of one of our SUVs. The 2018 Mazda CX-9 is that SUV, so don't wait, test drive it today" - Preston Automotive Group Vice President Dave Wilson Jr.
HURLOCK, Md. (PRWEB) December 19, 2018
What truly makes a sports utility vehicle an SUV? Mazda believes that durability, power, comfort, space, and complete dominion over the road are all vital factors in that decision; all of which are best exemplified by the 2018 Mazda CX-9. This SUV is designed to be the ideal family transportation and is ready to take on road trips or just head off the road in search of outdoor adventure. No matter the destination, the 2018 Mazda CX-9 will reach it, plow through any obstacles in its path, and look fantastic while doing so. It is an SUV that wants its passengers to enjoy every single second of the ride and not worry about what the road might have in store for them. Mazda's credo is "Make cars that make driving matter" and that is the exact experience that the 2018 Mazda CX-9 delivers.
Preston Mazda, a dealership that serves Delaware and Maryland, has noticed a higher demand for the rugged Mazda CX-9. Located in Hurlock on the Eastern Shore of Maryland, the dealership has increased its inventory of the popular 2018 version of this SUV and also now carries 2019 Mazda CX-9 models for its customers.
Haven't heard about the 2018 Mazda CX-9? Then allow us to give some insights into this outstanding SUV. Kelley Blue Book called the 2018 Mazda CX-9 "Mazda's largest and most powerful SUV," citing its "sleek styling" and "sports-sedan-like handling" as major components of its success. Most people would not think that an SUV could be considered sleek, but one look at the streamlined exterior of the 2018 Mazda CX-9 can convince even the most hardened skeptic. Its sturdy yet attractive body is able to take on different terrains and harsh weather while effortlessly making the jaws of other drivers drop.
The 2018 Mazda CX-9 also crushes the perception that SUV models are clumsy dinosaurs with its light yet highly damage-resistant body and advanced features that enhance its agility. Mazda's revolutionary G-Vectoring Control technology is one such feature and it is new to the Mazda CX-9 series. It brings total control to the driver, regardless if they are suddenly braking, making sharp turns, or just leisurely cruising. This superior level of handling unifies the bond between this SUV and its handler, almost making the 2018 Mazda CX-9 an extension of the driver. That deep connection, its gorgeous appearance, and other factors are among the reasons why the experts at Kelley Blue Book said the 2018 Mazda CX-9 is "as impressive to stare at as it is to drive."
Looks and performance are all well and good, but a true SUV needs to be luxuriously comfortable and provide complete safety for everyone riding in it. Mazda understands that criteria well and ensures that the 2018 Mazda CX-9 more than meets it. With three rows of seating, it is able to easily fit up to seven passengers and still have large amounts of space for cargo.U.S. News Best Cars called the cabin of the 2018 Mazda CX-9 "upscale" and says that "all three rows are roomy," which provides more spaces for its passengers than other 3-row SUV models. Mazda's nod to luxury is clearly evident throughout the entire interior of the 2018 Mazda CX-9 and U.S. News Best Car sums it up best: "Climb into the CX-9's cabin and you'll find a chic design and first-rate material."
Not only does this SUV keeps its passengers relaxed, but it also gives them extreme degrees of protection. The 2018 Mazda CX-9 scored very high marks and crash-test ratings from the Insurance Institute for Highway Safety (IIHS), which really displays the care and concern that Mazda has for its customers. Besides just being engineered to withstand whatever the road might throw at it, this SUV also comes equipped with various safety features to actively and passively protect its occupants. Drivers also can opt to purchase available features and extend the already-outstanding level of safety in the 2018 Mazda CX-9. The final call from the team at U.S. News Best Cars for this SUV? "The fuel-efficient 2018 (Mazda) CX-9 offers an upscale cabin and athletic handling, so that you can haul your family without giving up fun on twisty stretches of pavement."
Preston Mazda invites its customers and everyone else who has been searching for their next new SUV to come experience the 2018 Mazda CX-9 for themselves. Its team is waiting to touch on everything this stunning SUV can do, how simple it is to drive and how it is the perfect definition of what an SUV is. Mazda's goal is to "elevate your state of being every time you get behind the wheel" and that mission is achieved by the unparalleled 2018 Mazda CX-9.