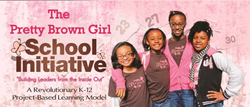 "We have seen a drastic difference in our students, the level of sisterhood is over-whelming and they are celebrating themselves and each other in a way that is both constructive and fun," says Tasha Harmon, Chicago, Illinois.
National (PRWEB) May 20, 2014
Nurturing Dreams for future successes, the Pretty Brown Girl (PBG) organization recently announced their K-12 PBG After-School Initiative "Building Leaders From the Inside Out". With the serious under-representation of positive messages and images regarding girls of color in mainstream media and in our global society at-large, Pretty Brown Girl Founders, Sheri and Corey Crawley, saw first-hand how their own daughters were affected. They began by developing unique products for girls to build upon the mission of celebrating the shades of brown, and in three short years thousands of girls have experienced social and emotional benefits from the dialogue that the products sparked. Over the last 18 months, there have been 115 PBG Clubs for girls established by parents, organizations and schools for girls ages 4-18 years-old both nationally and internationally.
PBG has recently announced a much needed K-12 After-School Program with interactive engagement and learning activities. Bronzeville Scholastic High School is the first school in Chicago to implement the revolutionary program for their students. Principal LeeAndra Khan was very forward thinking in giving her students an opportunity to have their voices heard in a safe space to explore the relationship between thoughts, attitudes and beliefs. The Student Development and Intervention Coordinator, Tasha Harmon who spearheaded the program, learned of Pretty Brown Girl through their dolls, T-Shirts and accessories for her own daughter and was ecstatic to learn that the company now offers a curriculum that infuses the empowering products with instructional learning materials. As PBG Facilitators, she and Kyla Matthews, the Math and Science Coach, have truly bonded with the first 20 students selected to participate in the program.
With an insurgence of violence plaguing youth across the country, this 15-20 week, project-based, self-discovery program is much needed to help reduce school infractions and to improve academic achievement. Higgins-Lewis K-8 school in the Boston School district began the PBG After-School Program last fall. Lena Reddick, the Director of Community and Partnership was very excited to have curriculum based workshops to help her students of varying ethnicity deal with self-confidence and skin-tone issues. Young ladies participating in the PBG program will be inspired to dream big and pledge to walk in their purpose.
Pretty Brown Girl is currently partnered with schools in Detroit (MI), Chicago (Il), Boston (MA), Bloomfield (CT), Jacksonville (FL), and Upper Marlboro (MD) to implement the After-School program.
To find out more about PBG School programs or to inquire about working with the Pretty Brown Girl Organization, email info(at)prettybrowngirl(dot)com or visit http://www.prettybrowngirl.com.