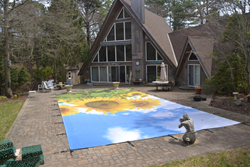 Merritt advised me along the way. It was a collaboration to get these made and to successfully launch the business.
Hartford, Conn (PRWEB) June 10, 2014
Enjoying wine with friends in late September, Maria Vitelli formed her latest business idea, Pretty Pool Covers, LLC. Vitelli and friends were discussing how it was time to close up the inground pool and once again "put the ugly cover on it." Her friends discussed how much they hated seeing the unattractive pool cover when the pool was closed. Vitelli said to the group, "There must be something you can do," sparking her entrepreneurial spirit. She envisioned covers with attractive images transforming the pool cover into a design element for the backyard.
At the time of this discussion Vitelli was working for a company that builds and services swimming pools. This gave her firsthand knowledge that plain pool covers were a problem for many pool owners. According to Vitelli, "When it came time to purchase a pool cover, I was often asked if there were better colors to choose from, because the options were boring or ugly." She also noted that many customers would open their pools early to be rid of the unsightly cover, increasing the cost of ownership due to additional maintenance fees.
Vitelli researched the requirements and safety specifications for pool covers and decided the best solution would be a "pretty" slipcover to hide the safety cover. The material necessary to make these slipcovers would need to allow water to flow through and be able to withstand chlorine and exposure to the elements, including sun and ice. "I knew enough about printing inks to know UV ink was available," says Vitelli. "I started thinking the companies that do bus wraps could do it because of the mesh windows." With this in mind, Vitelli contacted Merritt Graphics, a grand-format printer located in East Hartford, CT.
When Vitelli pitched her idea to Merritt, the sales team instantly embraced her concept. Merritt took the mandatory specifications and sourced several materials for testing. Ultimately Merritt found a brand-new mesh product that matched all of the slipcover's requirements. The use of industrial UV inks and poly-coated mesh were the winning combination. Merritt worked closely with Vitelli, assisting with the design, testing, and fabrication of the Pretty Pool Covers. "Merritt advised me along the way. It was a collaboration to get these made and to successfully launch the business."
Pretty Pool Covers are available in a range of preselected designs. Additionally, any image can be used to create a customized cover. The covers are available for purchase at prettypoolcovers.com. Pretty Pool Covers are available for any homeowner unhappy with the look of a safety pool cover, and Vitelli is thinking even bigger. "The covers offer a practical way for hotels to beautify pool areas in the off season, and they provide additional space for branding, or conference branding, by simply adding a logo." Vitelli further shares that landscapers and architects are able to incorporate stylish pool covers into their designs. Pretty Pool Covers also help realtors and developers with staging to help sell upscale homes.
To learn more about Pretty Pool Covers, LLC visit http://prettypoolcovers.com/.
About Merritt Graphics:
Merritt Graphics Big Color of East Hartford, CT is the grand-format printing division of Joseph Merritt Company, headquartered in nearby Hartford, CT. The company currently serves national markets including: Out of Home and Transit, POP, Indoor & Retail graphics, Vehicle graphics, Event Exhibit & Venue graphics, Environmental graphics, and Custom Sign fabrication. Merritt Graphics uses advanced printing technologies and sources quality substrates to consistently deliver high-end results. Merritt is certified by 3M to offer the 3M™ MCS™ Warranty for delivering finished graphics that meet 3M's exacting requirements. This certification is not required by 3M, but demonstrates Merritt's commitment to excellence.
To learn more about Merritt Graphics, visit http://www.merrittgraphics.com/big-color.