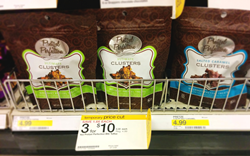 Target customers who take advantage of this sale will receive a 33% discount on each bag.
Vancouver, WA (PRWEB) February 06, 2015
Pretzel Perfection is a company based out of Vancouver Washington that creates sweet and savory gluten free pretzel snacks. Their chocolate-covered pretzel clusters are on the shelves at Target stores nationwide. Right now these sweet pretzel snacks are on sale at Target- three bags for $10.
The suggested retail price for Pretzel Perfection's Clusters is $4.99 per bag, so Target customers who take advantage of this sale will receive a 33% discount on each bag.
The two flavors of Clusters available at Target are the Salted Caramel Clusters, and the Ultimate Clusters.
Pretzel Perfection says the Salted Caramel Clusters have classic flavors of decadent dark chocolate and natural sea salt sprinkled on top of caramel on a gluten free pretzel.
They say the Ultimate Clusters are made with ingredients including rich milk chocolate, crunchy butter toffee, creamy peanut butter chips and butter toffee peanuts.
Those headed to Target to take advantage of this sale will find Pretzel Perfection Clusters on the bottom shelf in the specialty foods aisle near the candy and other chocolate snacks.
After announcing the Target sale on their Facebook Page, Pretzel Perfection fans responded in droves. Some of the fans' responses included, "Why don't I live closer to a Target?! I love the sea salt and caramel ones!" and "Heading out for more!"
Pretzel Perfection products can also be found at Costco, CVS Pharmacy, ABC Stores, Sam's Club, Wawa, Royal Farms, Sprouts, The Fresh Market, Wegmans, and Publix.
Pretzel Perfection products also include twice-baked, flavored pretzel sticks. They are available in the following flavors- Chipotle BBQ, Garlic Herb, Lemon Toffee, Stoneground Mustard, and Tomato Basil.
The company says Tomato Basil is a nationwide favorite- baked with a blend of tomato, basil, balsamic vinegar and spices.
All Pretzel Perfection products are made in the United States at their facilities in Vancouver Washington. All the products are Certified Gluten Free and Kosher. The products are also free of artificial flavors, artificial colorings and preservatives.
About Pretzel Perfection
Pretzel Perfection states that their mission is to provide unique, gourmet and premium gluten free products that can be enjoyed by all.
Those wanting to follow the company can connect with them via their Facebook Page, Twitter account, or even their Pinterest account.