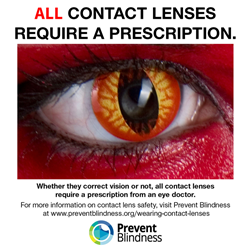 "Contact lenses can be a great alternative to eyeglasses, as long as they are used under the direction of a licensed eyecare professional," said Jeff Todd, president and CEO of Prevent Blindness.
CHICAGO (PRWEB) September 28, 2021
Contact lenses can be safe and effective in helping people see more clearly. However, when used improperly, they can cause serious eye and vision problems, including corneal ulcers and potentially blinding infections. Prevent Blindness, the nation's oldest volunteer non-profit eye health organization, has declared October as Contact Lens Safety Month to help educate the public on the best ways to protect their eyes through proper care.
The U.S. Food and Drug Administration (FDA) regulates all contact lenses as prescription medical devices. It is illegal for anyone to sell contact lenses without a prescription from an eyecare professional. With Halloween quickly approaching and consumers possibly looking to enhance their costumes with contact lenses, the FDA reminds the public that consumers need a prescription for all contact lenses, including "decorative" or "cosmetic contacts," even if the user has perfect vision.
Additionally, according to the Centers for Disease Control and Prevention CDC):

Serious eye infections that can lead to blindness affect up to 1 out of every 500 contact lens users per year.
Between 40-90 percent of contact lens wearers do not properly follow the care instructions for their contact lenses.
Approximately 99 percent of survey respondents reported at least one contact lens hygiene behavior previously associated with an increased risk of eye infection or inflammation.
Keratitis, a painful eye infection often linked to improper contact lens use, leads to 1 million doctor and hospital visits annually, at a cost of $175 million to the U.S. healthcare system.
Contact lens wearers are also at the highest risk for contracting acanthamoeba keratitis, which is a severe, painful infection of the cornea. The two biggest risk factors are poor lens hygiene, and exposure to water while wearing lenses. In the most extreme cases, a corneal transplant is necessary.
The single best way to avoid eye infections is to follow proper lens care guidelines as prescribed by your eye care professional. Prevent Blindness recommends the following for safe contact lens care:
Before handling contact lenses, wash hands with soap and water, then rinse and dry them with a lint-free towel.
Minimize contact with water, including removing lenses before going swimming or in a hot tub.
Contact lenses should not be rinsed with or stored in water (tap or sterile water).
Wear and replace contact lenses according to the schedule prescribed by an eyecare professional.
During cleaning, using fresh solution, rub your contact lenses with your fingers, then rinse the lenses with solution before soaking them – even if the solution you are using is a "no-rub" variety.
Contact lens cases should always be cleaned with fresh solution – not water. Then leave the empty case open to air dry.
Never put your lenses in your mouth or put saliva on your lenses as saliva is not sterile.
Never share lenses with others.
Do not re-use old solution or "top off" the solution in your lens case.
Do not use cracked or damaged lens cases. Lens cases can be a source of contamination and infection.
Remove contact lenses and contact your eyecare professional immediately if you experience any eye or vision problems.
"Contact lenses can be a great alternative to eyeglasses, as long as they are used under the direction of a licensed eyecare professional," said Jeff Todd, president and CEO of Prevent Blindness. "It is important to practice healthy contact lens habits every day to protect eyes from serious, painful vision issues."
For more information on contact lens safety, please visit https://preventblindness.org/wearing-contact-lenses/.
About Prevent Blindness
Founded in 1908, Prevent Blindness is the nation's leading volunteer eye health and safety organization dedicated to fighting blindness and saving sight. Focused on promoting a continuum of vision care, Prevent Blindness touches the lives of millions of people each year through public and professional education, advocacy, certified vision screening and training, community and patient service programs and research. These services are made possible through the generous support of the American public. Together with a network of affiliates, Prevent Blindness is committed to eliminating preventable blindness in America. For more information, visit us at preventblindness.org, and follow us on Facebook, Twitter, Instagram and LinkedIn.
###