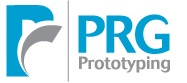 This new piece of equipment means that we can precisely cut components out of sheet materials for whatever you need.
Pittsburg, KS (PRWEB) February 02, 2017
PRG Prototyping, a prototype development and manufacturing company based in Pittsburg, Kansas, is excited to announce that we're expanding and enhancing our manufacturing capabilities and services with the addition of an ultra high-pressure waterjet cutting machine.
Our brand new waterjet machine is literally "cutting edge technology," and we're excited about what we'll be able to offer our clients, new and old, when it comes to 2D profile cutting. This new piece of equipment means that we can precisely cut components out of sheet materials for whatever you need, for after-the-fact assembly.
The machine is sturdy on its 12x6 foot platform, and performs incredibly precise cutting and trimming with a high-pressure water jet. That means there are no limits to how something can be cut—and few on what can be cut, as this machine will cut steel up to six inches thick, as well as granite, brass, wood, stainless steel, rubber, plastic, aluminum, copper, ceramic tile, and even softer materials, like foam.
The machine's process looks like this: We take our CAD/CAM ("computer-aided design" and "computer-aided manufacturing") data and plug it in to the computer that drives the cutting machine. The waterjet itself is fed by a water line and cuts the material of your choice at 60,000 psi—that's over 900 times the water pressure in your home. The cutting machine also employs garnet or sand as a cutting agent, along with the water. For some materials this is unnecessary, but if we're cutting metal for you, it's essential to have a water/garnet mix. Every part of this process is controlled by the computer as it cuts on both an X and a Y axis. Post-cutting, the water is filtered, and the spent garnet is removed.
PRG is excited about our acquisition of this HydroCutting technology, as it creates a massive amount of opportunity for our clients. With the waterjet cutting machine, we can produce one piece on-demand; we can also take ten sheets of a thin material, stack them up, and cut them all at once. This flexibility will serve our clients well, and especially those who need metal cutting done, making PRG Prototyping stand out among its competitors. Most manufacturing companies employ methods that use high-powered laser plasma cutters for this type of metal cutting work. While that works most of the time, lasers do create heat distortion—meaning that when you cut metal, the material will distort.
The water the waterjet machine uses is cold, so there is no risk of distortion, allowing our clients to achieve greater accuracy during the prototyping process since the parts are cut with greater accuracy, and fit better when assembled. The new machine also allows us to cut one part or 1000 parts at the same cost, with no expensive molds or tooling. This will enable our prototyping clients to order and receive only what they need for their projects.
Our president, Tyler Harrell, is excited for the waterjet because it will allow PRG Prototyping to grow and expand greatly. He describes it as a piece of technology that responds to a specific market need while offering better pricing and faster lead time for parts creation. It's also a flexible, on-demand piece of technology, meaning there's substantially less wait time for our clients. At PRG, we're excited about what we can do with the new waterjet machine because of the precision, speed, and problem-solving we can now provide to our clients.
At PRG, we have always been committed to providing our clients with the very best design and prototyping services as they work to take their product to market. With the waterjet cutting machine, we'll be better able to provide the services needed by business owners, and with increased flexibility, better precision, and quicker turnaround time. With the addition of our equipment, we have also added a full product assembly division, as well as quality management and supply chain management divisions for our clients.
About PRG Prototyping
PRG Prototyping in Pittsburg, Kansas specializes in designing and building new products, with a focus on concept design engineering, design for manufacturability, prototype development, production, and marketing presentations. PRG can also provide information on patent protection and intellectual property services.