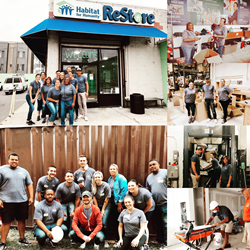 PHILADELPHIA (PRWEB) September 18, 2019
On Friday, September 6, 2019, PRG Real Estate, an industry leader in multi-family Real Estate, partnered with Habitat for Humanity Philadelphia to participate in a day of community service. In addition to the volunteer hours, PRG Real Estate made a substantial financial contribution to Habitat for Humanity Philadelphia, which finalized the purchase of a home for a young mother and her three children.
Locally, Habitat for Humanity Philadelphia dedicates its time, energy, and resources to improving the affordable homeownership experience and neighborhood rehabilitation of Philadelphians. "Home is everything. We share it together. Being stable and having security for my kids is everything to me. The reason I wanted this home was so the kids can have something, and I can pass something onto them." – Atiya, Habitat Homeowner
PRG Real Estate sent a team of eleven associates to assist in homebuilding at Habitat for Humanity Philadelphia's new development in Northwest Philadelphia's Oxford Green neighborhood. The remaining ten members of the PRG team lent a hand at Habitat's ReStore on Washington Avenue. The ReStore sells new and gently-used furniture, appliances, building supplies, and home goods to generate a profit that is contributed to Habitat's construction and repair projects.
At the construction site, the team assisted in tiling, cleaning HVAC units, prepping for painting, insulating, and building cabinets. At the ReStore, members of PRG helped to organize donations, build furniture, and clean out storage space. Altogether, PRG was able to contribute to every aspect of Habitat Philadelphia's impact model.
PRG's donation, in conjunction with many other generous contributors, helped complete the Diamond Park community. Twenty-one families will move into these new homes and be provided with the skills and resources for a stable lifestyle.
For over 30 years, PRG has strived to provide a place to call home for thousands of individuals and families. Partnering with Habitat for Humanity has allowed our company to give back to the area that we have called home for so long. "While PRG does not own and manage any apartments in Philadelphia, it has been home to our corporate offices and dozens of employees since the inception of the company. As such, we are proud to call ourselves Philadelphians, and it is a true honor and pleasure to be able to give back to the community we call home." – Brett Gomes, Managing Director of PRG Capital