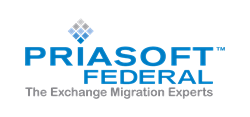 Tempe, AZ (PRWEB) December 04, 2014
Priasoft, the exchange migration experts, are pleased to announce that the United States Navy has formally approved Priasoft Migration Suite for Exchange v6.5 software technology for use within the Department of Navy (DON) networks through the U.S. Navy CIO DADMS certification.
The DON CIO provides guidance on registration requirements for the DON Application and Database Management System (DADMS) and DoD IT Portfolio Repository (DITPR)-DON, which replaced the DON IT Registry. DITPR-DON is the single, authoritative source for data regarding DON IT systems, including National Security Systems. Registration of mission-critical, mission-essential and mission-support systems in DITPR-DON is central to establishing an accurate and reliable enterprise-wide inventory. Additionally, DITPR-DON is used to satisfy statutory and management reporting requirements, including Federal Information Security Management Act reporting and the Business Management Modernization Program certification process.