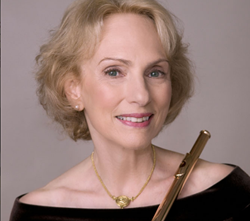 Her musicianship is consummate, her taste immaculate and her stage presence a sheer pleasure.
Pueblo, CO (PRWEB) November 01, 2016
Jack Price, founder of Price Rubin & Partners and concert pianist formerly known as Dickran Atamian, recently announced his artist Eugenia Zukerman will be performing in Mozart's "The Magic Flute" with the Pueblo Symphony Orchestra on Saturday, November 12, 2016, at 7:30 p.m. in the Hoag Recital Hall at Colorado State University Pueblo. "This is a golden opportunity to see not only a world-renowned flutist, but one of the biggest brands in the industry," said Price.
Zukerman is in demand from New York to China as an orchestral soloist, chamber musician and recitalist. According to The New York Times, "Her musicianship is consummate, her taste immaculate and her stage presence a sheer pleasure." Furthermore, while maintaining an international concert calendar as a flute soloist with more than thirty performances annually, Zukerman's multifaceted career also includes distinguished work as an arts administrator, author, educator, Internet entrepreneur, journalist and lecturer.
Zukerman has performed as a soloist with many of the world's finest orchestras. Her numerous international guest appearances have included engagements with the Tokyo Philharmonic, the Royal Philharmonic, the China Philharmonic, and the Israel, Moscow, Prague and Scottish Chamber Orchestras. In North America, she has also played with the Los Angeles Philharmonic, National Symphony in Washington, D.C., the Montreal and Vancouver Symphonies and the National Symphony Orchestra of Mexico.
For tickets and more information about "The Magic Flute" performance featuring Eugenia Zukerman, please call 719-545-7967 or visit http://www.pueblosymphony.com/PSO/Concerts.html.
About Jack Price, Price Rubin & Partners Artist Management
Jack Price helps artists develop their individual market branding and career milestones. The Price Rubin & Partners staff makes thousands of calls every month to decision-makers who are in charge of talent acquisition for concerts, corporate events and fundraisers. They offer real-time reporting where artists can see their campaign (which is personally supervised by Jack) unfolding second by second. Price Rubin stands for transparency and accountability in artist management today. For more information, please call (310) 254-7149, (PRI) CER-UBIN or visit http://www.pricerubin.info.
About the NALA™
The NALA offers small and medium-sized businesses effective ways to reach customers through new media. As a single-agency source, the NALA helps businesses flourish in their local community. The NALA's mission is to promote a business' relevant and newsworthy events and achievements, both online and through traditional media. For media inquiries, please call 805.650.6121, ext. 361.