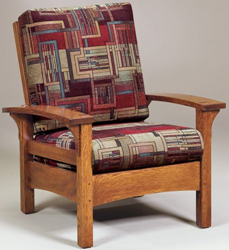 Furniture shoppers can get clearance items for as much as 50% off, plus 15% off non-clearance items in Brandenberry's After Thanksgiving Day Sale.
SHIPSHEWANA, Ind. (PRWEB) November 29, 2019
The holiday shopping season kicks off with a bang in Shipshewana, Indiana, as Brandeneberry Amish Furniture hosts an After Thanksgiving Day Sale. The sale starts Black Friday, Nov. 29, and also runs on Saturday, Nov. 30 as well as Monday, Dec. 2, 2019.
Amish furniture zealots can get clearance items for as much as 50 percent off the regular price. This includes 50 percent savings on Amish-crafted, solid hardwood pieces for the bedroom, living room, dining room and elsewhere in the home.
All non-clearance items of furniture at Brandenberry are available at 15 percent off during the sale. This means customers can choose their favorite furniture items, including dining room sets, hutches and sideboards at attractive prices. Items also discounted include living room sofas, coffee tables and end tables, plus kids' furniture. Even the full lineup of accessories – such as wall hangings and pictures – are on sale for 15 percent off the regular price.
During Brandenberry's After Thanksgiving Sale, shoppers are invited to explore the Shipshewana community where many great food options such as Ben's Pretzels and Das Dutchman Essenhaus await hungry patrons. Shipshewana is home to one of the largest Amish communities in the United States and to many, many Amish oriented eateries.
The Brandenberry After Thanksgiving Sale lasts only three days: Black Friday, Nov. 29; Saturday, Nov. 30 and Monday, Dec. 2. So shoppers are invited to make plans now to visit. The store is located at 1045 N. State Road 5 in Shipshewana. It's at the intersection of State Road 5 and US 20, near the Indiana Toll Road. The store is open Monday through Saturday from 9 a.m. to 5 p.m. and by appointment.
About Brandenberry Amish Furniture
Brandenberry Furniture opened its doors in 2008. The Brandenberry Furniture concept allows customers to design the furniture of their dreams. This includes exploring the rich woods and stains that only nature can offer. Nothing matches the feel, the smell and the weight of hickory, oak, cherry and maple. And these real woods come to life in an Amish handcrafted piece. Also, the pieces are meant to last a lifetime and beyond.
Is your favorite style Mission, Traditional, Modern or something in between? If Brandenberry Furniture doesn't carry it, our craftsmen will build it to your specifications.
At Brandenberry Furniture, we offer everything from bedroom and dining collections to home accessories, patio seating and exclusive furniture pieces. So browse our easy-to-use website. It contains detailed photographs and information. Also, you'll find furniture categorized by room. These include family room, dining room, bedroom, office and children's furniture. What's more, you'll find furniture categorized by style and wood species. These species include oak, hickory, cherry, elm, maple, pine and cedar.