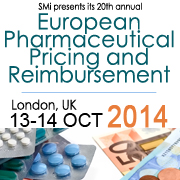 With up to $5 billion in R&D costs for every successful drug launched, winning strategies are critical
London, Southwark (PRWEB UK) 3 June 2014
Market access remains one of the most significant current and future challenges for the industry. Spiralling drug development costs exert pressure to ensure successful and effective planning of your access strategies. With up to $5 billion in R&D costs for every successful drug launched, winning strategies are critical. Understanding the strengths and shortcomings in your people, processes and evidence are going to be the keys to your success. Planning around these key factors will enable increased market share for your organisation.
(Source: Alliance Life Sciences, Alliance Life Sciences Survey of Pharmaceutical, Medical Device Pricing and Reimbursement Stakeholders Identifies Market Access Challenges and Successes, 2014)
Industry experts will gather at SMi's 20th P&R conference on the 13-14 October. This event has been one of the oldest market leaders in the pharmaceutical industries calendar for some time. Our expert speaking faculty; made up from key industry personnel from big pharma, biotech and academia will thoroughly explain and offer advice on P&R and market access. The 2014 agenda will focus on case studies as applied to different countries and environments in terms of market access.
In five sessions, the conference will include presentations on the following topics:
1. Spotlight on Price Discrimination and Market Access

Price discrimination - gaining an overview
Examining diverse perspectives on market access
2. Case Studies, Reforms and HTA Assessments

AMNOG and Early Benefit Assessment - situation and trends
Value based assessment
Engagement with payers-how to successfully engage with payer and be heard
Pharmaceutical pricing & market Access Opportunities and Limitations in turkey after implementation of health transformation Reform
From value based pricing to value based buying
AMNOG - Value Based pricing in Germany
AMNOG and its international implications
3. Pricing and Market Access systems - Case Studies

EU pricing & market Access from a Global perspective
Case study presentation: developing a co-creation model with payers
4. Developments in Medicine and Development

Is there room for real world data in medicine development?
Market access for innovative products: what's new in France?
5. Discussion of Future in P&R

Japanese pricing and Reimbursement After the 2014 Reforms
The future scenario of P&R: health reforms and companies' strategies
The proposed reform of the EU transparency directive – an Update
A dutch Approach to Reimbursement
Panel discussion – managing international challenges of HTA
---END---
For more information please visit:
European Pharmaceutical Pricing and Reimbursement 2014
13-14 October, 2014
Marriott Regents Park Hotel, London, UK
http://www.pharmaceuticalpricing.co.uk
About SMi Group
Established since 1993, the SMi Group is a global event-production company that specializes in Business-to-Business Conferences, Workshops, Masterclasses and online Communities. We create and deliver events in the Defence, Security, Energy, Utilities, Finance, and Pharmaceutical industries.
We pride ourselves on having access to the world's most forward thinking opinion leaders and visionaries, allowing us to bring our communities together to Learn, Engage, Share and Network. We hold events in over 30 major cities throughout the world including London, Paris and Singapore and to date have welcomed over 200,000 participants from 80 countries.
More information can be found at http://www.smi-online.co.uk.