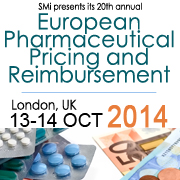 London, Southwark (PRWEB UK) 14 June 2014
Market access remains one of the most significant current and future challenges for the industry. Spiralling drug development costs exert pressure to ensure successful and effective planning of your access strategies. With up to $5 billion in R&D costs for every successful drug launched, winning strategies are critical. Understanding the strengths and shortcomings in your people, processes and evidence are going to be the keys to your success. Planning around these key factors will enable increased market share for your organisation.
(Source: Thomson Reuters - Life Science Connect, Market Insight: The Use of Real-World Evidence is a Must for Gaining Market Access in Pharma, 2014)
Bristol-Myers Squibb, Mundipharma and Quintiles joins together to provide a panel discussion at this year's P&R conference to provide a platform to discuss and debate the future of P&R.
Highlights from the presentation entitled: Panel Discussion – Managing International Challenges of HTA, will include:

Clarifying the impact of European developments on industry
What is the future of HTA
Debating the positives and negatives in future HTA approaches
European Pharmaceutical Pricing and Reimbursement 2014 will provide a mix of case study led presentations, panel debates and keynote addresses that have been tailored to an audience of professionals involved in pricing and market access, value based assessments, reforms and HTA assessments and medicine development. The above is just a snap shot of what will be covered at the event.
To download a brochure, visit http://www.pharmaceuticalpricing.co.uk.
Hear from Key Speakers Including: National Pharmacy Association, Ministry of Health (Germany), Gilead, Munidpharma, GlaxoSmithKline, Novartis, Bristol-Myers Squibb, Ipsen, National Healthcare Institute and many more…
For those who are interested in attending there is currently a £300 reduced rate (ends 30th June).
--END--
For more information and full programme details, please visit:
20th annual European Pharmaceutical Pricing and Reimbursement
13-14 October, 2014
Marriott Regents Park Hotel, London, UK
http://www.pharmaceuticalpricing.co.uk
About SMi Group
Established since 1993, the SMi Group is a global event-production company that specializes in Business-to-Business Conferences, Workshops, Masterclasses and online Communities. We create and deliver events in the Defence, Security, Energy, Utilities, Finance and Pharmaceutical industries.
We pride ourselves on having access to the world's most forward thinking opinion leaders and visionaries, allowing us to bring our communities together to Learn, Engage, Share and Network. We hold events in over 30 major cities throughout the world including London, Paris and Singapore and to date have welcomed over 200,000 participants from 80 countries.
More information can be found at http://www.smi-online.co.uk.