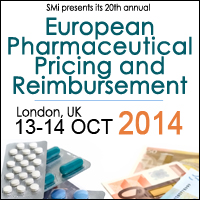 Global market access planning is growing in complexity as each country's evolving regulations change- Decision Resources Group, 2014
London, Southwark (PRWEB UK) 30 June 2014
Global market access planning is growing in complexity as each country's evolving regulations change the context in which pharmaceutical brands are entering and maximizing their presence. Tightening budgets and elevated cost-effectiveness expectations characterise the EU5 healthcare markets. This is well illustrated by recent Health Technology Assessments (HTA) decisions, such as rulings of "added benefit not quantifiable" for chronic myeloid leukemia drugs in Germany due to their open-label pivotal trial design and the absence of head-to-head comparative data.
(Source: Decision Resources Group - Yahoo Finance, Pharma Challenged by Increasing Global Market Access Complexity as 2015 Planning Intensifies, 2014)
Industry experts gather at this year's P&R conference to provide the latest industry updates through a series of case studies on pricing, reforms, engagement with payers, HTA assessments, market access and lessons learned. Highlights from the 2-day programme include:

Engagement with payers - how to successfully engage with payers and be heard
Leyla Hannbeck, Head of Pharmacy Services, National Pharmacy Association
Pharmaceutical pricing & market access opportunities and limitations in Turkey after implementation of health transformation reform
Mete Saylan, Senior Market Access Manager, Novartis
AMNOG - Value Based Pricing in Germany
Silke Baumann, Head of Unit, Pricing, Assessment and Reimbursement of New Medicines, Ministry of Health, Germany
EU pricing & market access from a global perspective
Irma van den Arend, VP Global Pricing, Reimbursement and Funding, Ipsen
A Dutch approach to reimbursement
Linda van Saase, Manager, Pharmaceutical Care, National Healthcare Institute
This is just a snippet of what will be covered. Other speakers will include Bristol-Myers Squibb, Mundipharma, Quintiles, Gilead, GlaxoSmithKline plus many more. Click here to see the full speaker line up and conference agenda.
For those who are interested in attending there is currently a £300 reduced rate (ends 30th June).
--END--
For more information and full programme details, please visit:
20th annual European Pharmaceutical Pricing and Reimbursement
13-14 October, 2014
Marriott Regents Park Hotel, London, UK
http://www.pharmaceuticalpricing.co.uk
About SMi Group
Established since 1993, the SMi Group is a global event-production company that specializes in Business-to-Business Conferences, Workshops, Masterclasses and online Communities. We create and deliver events in the Defence, Security, Energy, Utilities, Finance and Pharmaceutical industries.
We pride ourselves on having access to the world's most forward thinking opinion leaders and visionaries, allowing us to bring our communities together to Learn, Engage, Share and Network. We hold events in over 30 major cities throughout the world including London, Paris and Singapore and to date have welcomed over 200,000 participants from 80 countries.
More information can be found at http://www.smi-online.co.uk.