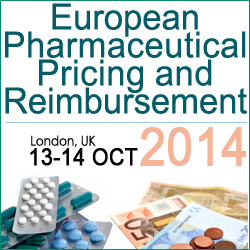 The future will bring increased responsibilities to pharmaceutical manufacturers, but will also open the door for new opportunities. - Alliance Life Sciences, 2014
London, Southwark (PRWEB UK) 5 August 2014
New regulatory and pricing trends emerging this decade bring a paradigm shift that the industry must respond to and embrace to ensure success. The future will bring increased responsibilities to pharmaceutical manufacturers, but will also open the door for new opportunities.
(Source: Alliance Life Sciences Company Blog, Emerging Global Pharmaceutical Trends for 2014-2020, 2014)
Join SMi's 20th annual European Pharmaceutical Pricing and Reimbursement to hear exclusive case studies on the latest HTA regulation developments and other challenges associated to different geographical areas - including the Nordic region, Germany, Turkey, France, Japan, Netherlands and more. Our expert speaking faculty; made up from key industry personnel from big pharma, biotech and academia will thoroughly explain and offer advice on P&R and market access.
Benefits of Attending:

Evaluate challenges within price discrimination
Implications of AMNOG featuring IGES institut, EUCOPE and Ministry of Health, Germany
Case study from Ipsen on latest developments in pharmaceutical pricing
Analyse the impact of Value Based Assessment on SMEs
Gain further insight on how to engage effectively with payers
Key presentation on the IMI GetReal Consortium
Ample networking opportunities , including a drinks reception on the close of Day One sponsored by Quintiles
Key Presenters Include
Chairs for 2014:

Peter Hertzman, Founder & Principal Consultant, The Health Access Agency
Leslie Galloway, Chairman, Ethical Medicines Industry Group (EMIG)
Key Speakers:

Leyla Hannbeck, Head of Pharmacy Services, National Pharmacy Association
Silke Baumann, Head of Unit, Pricing, Assessment and Reimbursement of New Medicines, Ministry of Health, Germany
Rodolphe Perard, Associate Director, Market Access, Gilead
Francois Bernard, Head of Market Access, Mundipharma
Mike Chambers, Head of Reimbursement and Value, Market Access and Healthcare Solutions, GlaxoSmithKline
Linda Van Saase, Manager, Pharmaceutical Care, National Healthcare Institute
Irma Van Den Arend, VP, Global Pricing, Reimbursement and Funding, Ipsen
For those who are interested in attending, there is currently a £300 reduced rate through online registrations, using the following code: SMI7D6Z
--END--
For more information and full programme details, please visit:
20th annual European Pharmaceutical Pricing and Reimbursement
13-14 October, 2014
Marriott Regents Park Hotel, London, UK
http://www.pharmaceuticalpricing.co.uk
About SMi Group
Established since 1993, the SMi Group is a global event-production company that specializes in Business-to-Business Conferences, Workshops, Masterclasses and online Communities. We create and deliver events in the Defence, Security, Energy, Utilities, Finance and Pharmaceutical industries.
We pride ourselves on having access to the world's most forward thinking opinion leaders and visionaries, allowing us to bring our communities together to Learn, Engage, Share and Network. We hold events in over 30 major cities throughout the world including London, Paris and Singapore and to date have welcomed over 200,000 participants from 80 countries.
More information can be found at http://www.smi-online.co.uk.