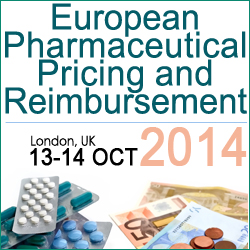 London, Southwark (PRWEB UK) 27 September 2014
Just under 3 weeks remain until the doors open to host the popular industry conference on European Pharmaceutical Pricing and Reimbursement. this global event will feature attendees from Belgium, Czech Republic, Denmark, France, Germany, Italy, Netherlands, Sweden, Switzerland, United Kingdom and USA.
Latest attendees to book include: Astellas Pharma Europe, Tillotts Pharma, H. Lundbeck, Two Scenarios, SOTIO, Johnson & Johnson, Janssen-Cilag Germany, UCB, Bristows LLP, Forest Laboratories, Recordati Industria Chimica E Farmaceutica plus many more!
EVENT HIGHLIGHTS:

Receive key insights from GlaxoSmithKline on the use of 'real world' data: Mike Chambers, Head of Reimbursement and Value, Market Access and Healthcare Solutions will be discussing the emerging environment: conditional and adaptive processes for marketing authorisation and reimbursement. GlaxoSmithKline expand further into the IMI GetReal consortium and how it is gearing towards a shared framework for decision making.
Ipsen examines EU pricing & market access from a global perspective: Hear Irma van den Arend's keynote address on price management in the context of International Price Referencing and Class Referencing. This will be followed by a discussion of market access strategies and a case study of a system in action.
Understand and review AMNOG - Value based pricing in Germany: The Ministry of Health, Germany will be examining the latest legislation and changes in the P&R and German landscape. What do we do now? What lessons were learnt? These will be just some of the topics addressed by the Head of Unit, Pricing, Assessment and Reimbursement of New Medicines, Silke Baumann.
Hear from the National Pharmacy Association on how to successfully engage with payers and be heard: Leyla Hannbeck, Head of Pharmacy Service, will be reviewing how payers work with the pharma industry. Leyla will be answering key questions such as: what does a successful payer/pharma relationship look like? How to approach payers using a patient-centric approach?
Evaluate the challenges and obstacles for price discrimination with The Health Access Agency: Peter Hertzman, Founder & Principal Consultant, addresses the differences in HTA approaches between countries influencing price discrimination and why it is relevant. Various options will be discussed in order to achieve price discrimination, including outcome based contracts.
This is just a snap shot of what will be covered. Other speakers will include Ethical Medicines Industry Group (EMIG), IGES Institut, EUCOPE, Mundipharma, National Healthcare Institute, plus many more. Click here to see the full speaker line up and conference programme.
Join this year's event in 3 weeks' time to enjoy a content packed agenda, thought provoking discussion and ample opportunity to network with industry leaders and KOLs.
For those who are interested in attending, there is currently a £300 reduced rate through online registrations, using the following code: SMI7D6Z
Contact Fateja Begum for more information on +44(0) 207 827 6184 | fbegum(at)smi-online.co.uk
--END--
20th annual European Pharmaceutical Pricing and Reimbursement
13-14 October, 2014
Marriott Regents Park Hotel, London, UK
http://www.pharmaceuticalpricing.co.uk
About SMi Group:
Established since 1993, the SMi Group is a global event-production company that specializes in Business-to-Business Conferences, Workshops, Masterclasses, and online Communities. SMi Group creates and delivers events in the Defence, Security, Energy, Utilities, Finance, and Pharmaceutical industries.
SMi Group has access to the world's most forward thinking opinion leaders and visionaries, allowing communities to Learn, Engage, Share, and Network together. SMi Group hold events in over 30 major cities throughout the world, including London, Paris, and Singapore, and to date, have welcomed over 200,000 participants from 80 countries.
More information can be found at http://www.smi-online.co.uk.