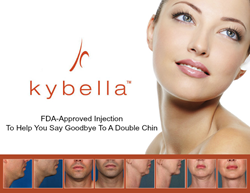 "I have no double chin, how can I not like the results". Jay also stated...
Bedford, NY (PRWEB) September 21, 2016
This week, Primary Aesthetic Skin Care put the injectable Kybella to the test with two patients who had never before received the treatment. Primary Aesthetic Skin care just started offering Kybella this month and wanted to put it to the test, to see results on their own patients. Both patients, Jay and Melissa, offered to try the treatment and give honest feedback about the latest FDA cleared injectable. After treatment, they were immediately interviewed; and again after 5 weeks. Jay and Melissa both reported more dramatic results at the second interview, 5 weeks post treatment.
Kybella is a liquid injectable that is clinically proven to destroy fat cells below the chin. While Melissa did have some initial hesitation about receiving Kybella, Jay expressed that since he had some friends who already tried Kybella, he "had no hesitation to try it". Both patients had Kybella administered by Elena Ginsberg, FNP, MSN at the Primary Aesthetic Skin Care office in Bedford. Prior to the treatment, both had a private consultation with trained staff from Primary to discuss concerns and treatment plans. Jay was treated first and, to minimize discomfort, was treated with lidocaine to numb the treatment area. Melissa was not treated with any numbing solutions, but she did ice the treatment area prior to the Kybella injections. Both patients' treatment lasted about 30 minutes. Immediately after treatment, we interviewed both Jay and Melissa to see what they thought about Kybella.
Since results with Kybella tend to be more noticeable a few weeks after treatment, we asked the newly treated patients about their immediate experience. Both patients reported an overall pleasant experience from the staff and service they received at Primary; "Elena was so gentle with the treatment and made me feel very comfortable the whole time," stated Melissa directly after receiving Kybella. Since Melissa did not use numbing agents, she did report, "mild discomfort with injections [however] icing prior to the procedure helped." Jay also had a positive experience and felt "no pain or discomfort".
We checked in with both patients 5 weeks after treatment to see if the promised results of Kybella, truly delivered. Jay seemed to be genuinely happy with his results, "I have no double chin, how can I not like the results." Jay also stated that he would recommend Kybella from Primary to his friends. Melissa was also satisfied with her results from Kybella, "I definitely like the results, but I want more dramatic results so I'm going back to see Elena again." Melissa also shared that she would recommend Kybella as well as the practice to friends.
Overall, while Kybella initially can appear to be gimmicky in a world full of the latest and greatest treatments, Kybella can really help treat excess fat below the chin area. It's important to only see a provider that is certified to administer Kybella. For more information, contact Elena Ginsberg.