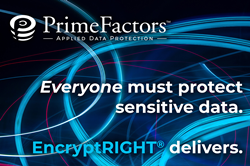 "In the old days, encryption was used by banks, governments, and militaries," said Justin Teitt, COO of Prime Factors. "With privacy regulations in more than 130 countries today, everyone must protect sensitive data. Despite the growth in mandates, many companies get breached each year"
EUGENE, Ore. (PRWEB) December 20, 2022
Prime Factors, a leader in application-level data protection, has been recognized by Gartner® among Sample Vendors in the Hype Cycle for Privacy, 2022.
In the Hype Cycle for Privacy, 2022, Gartner recognized Prime Factors among Sample Vendors in Format-preserving encryption, a category of privacy, defined by the research firm which "protects data at rest and in use, and when accessed through applications."
In this research note, Gartner predicts "by 2024, government regulations requiring organizations to provide free and accessible consumer privacy rights will grow to cover five billion citizens and more than 70% of global GDP." Accordingly, they point out that "privacy remains a top priority in managing cyber and IT risk as modern regulations continue to impact the processing of personal data." In this publication, the analyst firm suggests that "leaders with privacy responsibilities must guide their organization to make strategic investments in technology to support a scalable approach to privacy that balances innovation with the need to satisfy regulatory requirements."
"In the old days, we saw encryption being used primarily by banks, governments, and militaries," said Justin Teitt, COO of Prime Factors. "However, with privacy regulations in place at more than 130 countries today, the game has changed – everyone must protect sensitive data. And yet, despite the precipitous growth in mandates, many of the world's largest companies are still getting breached each year, exposing consumers' personal data, and breaking trust."
Gartner suggests that "proactive risk reduction can be achieved through competent data life cycle governance and pseudonymization techniques, such as encryption, masking and tokenization." However, they go on to caution that "security is frequently not coordinated across all data silos, and organizations struggle to track data flows across their architectures, resulting in clear-text access to sensitive data in other data stores not secured with FPE."
"It's clear to us that modern data protection and data privacy requires being able to deliver a broad spectrum of data protection functionality," said Henry Cheli, president of Prime Factors. "We have focused our EncryptRIGHT® product not only on delivering this functionality, but also on leveraging an architecture that centralizes data protection policies and makes it simpler to apply security policies consistently. This makes it easier than ever to enforce data privacy and protect sensitive information wherever data is used, moved, or stored.
Gartner clients can access the full report here.
*Gartner, "Hype Cycle for Privacy, 2022", Bernard Woo, Bart Willemsen, August 2, 2022.
Gartner Disclaimer
GARTNER and HYPE CYCLE are registered trademarks and service marks of Gartner, Inc. and/or its affiliates in the U.S. and internationally and are used herein with permission. All rights reserved.
Gartner does not endorse any vendor, product or service depicted in its research publications, and does not advise technology users to select only those vendors with the highest ratings or other designation. Gartner research publications consist of the opinions of Gartner's research organization and should not be construed as statements of fact. Gartner disclaims all warranties, expressed or implied, with respect to this research, including any warranties of merchantability or fitness for a particular purpose.
About Prime Factors
Prime Factors is a global leader in applied data protection software, helping to secure an open and collaborative digital world. Data has never been more plentiful or more valuable, and the protection of sensitive data has never been more complex. With a focus on application-level data protection, software solutions from Prime Factors help to simplify the complexities associated with protecting sensitive information where it is most at risk. For 40 years, Prime Factors has served more than 1,000 customers across six continents in a variety of industries, including 80% of the top financial institutions in North America, with cryptographic software solutions for payments, information exchange, and general data protection. http://www.primefactors.com Follow us on LinkedIn or Twitter.
About EncryptRIGHT®
EncryptRIGHT was one of the world's first data security platforms – combining a broad spectrum of data protection functionality in a single code base. Leveraging a data protection policy (DPP) engine, EncryptRIGHT helps to define and enforce how data is protected, who can access secure data, and what form the data takes when access is granted quickly and easily. EncryptRIGHT combines a variety of different security techniques, including encryption, hashing, digital signing, redaction masking, tokenization and dynamic data masking, along with role-based access controls, and audit logging and reporting, to robustly protect data and enforce privacy. By abstracting data protection policies from application programming, EncryptRIGHT delivers application-native data protection in just a few lines of code – significantly reducing implementation times from many months to a few days, while enforcing a complete separation of duties between information security and developers.