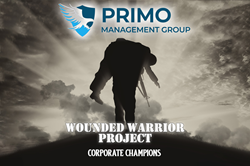 Primo Management Group is proud to be a corporate champion of The Wounded Warrior Project and offer veterans discounts on how to cancel a timeshare.
ORLANDO, Fla. (PRWEB) February 13, 2020
Primo Management Group, which focuses on how to cancel timeshare, has become an official corporate champion of The Wounded Warrior Project and is offering a discount to any active or retired members of the military as well as first responders who wish to learn how to get out of a timeshare agreement. The company, based in Florida, has assisted thousands of people in getting out of resort agreements throughout the United States and is veteran owned. They wanted to begin 2020 with this promotion to assist people who feel stuck in resort agreements.
"It amazes us how these timeshare companies go after people. They find veterans and active military members who are looking for a vacation with their scarce free time and they invite them to a resort for a free weekend. Then, they tell them how affordable it would be to own time at a resort, selling them a pipe dream. The problem? The costs go up, there are hidden fees, and they have trouble reserving the time they want. To make things worse, they can't get out of the deal and they have to keep paying. That's not right to do to anyone – but especially those who have or are still serving our country – and we want to help." Primo Management Group Owner and proud veteran Israel Sanchez, Jr.
Because many of these resorts come with complex, agreements, it's hard for people to get out of them. In fact, to date, there are no DIY methods for getting out of these timeshare agreements safely, and the only chance someone has is to hire the services of a company like PMG. To start, PMG offers a free consultation to help identify the challenges that come with the agreement, what's really needed to learn how to cancel timeshare and so forth. This information is offered upfront at no charge to the client before the work begins.
"These people have been tricked and they feel stuck. We offer a way out, but every case is different and that's why we want to begin with a free consultation. We've had some cases that we were able to take care of in three months and others that took longer. It really depends on a variety of factors, and that's why we want you to call us first. We'll be 100% honest and will set realistic expectations. If you are a veteran or are currently serving the United States, we invite you to call and ask about the discount."
For more information, please contact: (407) 627-1179 or email: info@pmanagementgroup.com
Primo Management Group is based in Central Florida and is the country's top timeshare cancellation group. Veteran-owned, the company has helped thousands of people get out of their resort contracts. If you have noticed an increase in annual fees, random fees being charged to you, difficulty selling or getting out of the agreement, contact us today for further assistance.