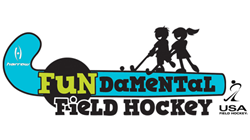 I'm extremely pleased to have Primoris Academy introduce our youth field hockey program to Bergen County and surrounding area. - Liz Tchou, 1996 Olympian and Sport Development Senior Manager for USA Field Hockey
Westwood, NJ (PRWEB) April 25, 2014
"Fundamental Field Hockey" is a youth development initiative to expose the sport to thousands of boys and girls nationwide by providing free equipment and emphasizing fun physical activity. This program from USA Field Hockey is committed to inspire participation and introduce the sport to over 15,000 boys and girls, ages 7-11 across the country. The program teaches the game in its basic form and has a heavy focus on exciting game play. USA Field Hockey has chosen Primoris Academy to be the first ever host in Bergen County, New Jersey for this exciting coed youth program.
Liz Tchou, 1996 Olympian and Sport Development Senior Manager for USA Field Hockey stated, "I'm extremely pleased to have Primoris Academy introduce our youth field hockey program to Bergen County. We trust their initiative to bring the sport of field hockey to Northern New Jersey will go far in raising awareness of and participating in our exhilarating sport."
The FUNdamental Field Hockey program will run this summer at Primoris Academy in Westwood, New Jersey located at 120 Washington Avenue. The program runs Mondays through Thursdays from 3:00 PM to 5:00 PM. There will be two, 8-day sessions from which to choose: July 7th – 17th or July 21st – 31st. The cost is only $80 for the eight days of instruction and play. All equipment will be provided including sticks and balls. Children need only show up wearing sneakers and comfortable athletic clothing (typically shorts and t-shirt). The curriculum was developed by USA Field Hockey and will be taught by experienced field hockey players.
To sign up for the FUNdamental Field Hockey program, call Primoris Academy at (201) 722-1000 or email them at info(at)PrimorisAcademy(dot)org. Early registration is recommended for this program as space is limited to 24 children per week and will be assigned on a first come, first serve basis.
ABOUT PRIMORIS ACADEMY
Primoris Academy an independent, non-profit, private school that places children into classes based upon their ability, not their chronological age. They have a unique educational environment where bright children can learn at an accelerated rate and reach their maximum potential. Primoris Academy's teaching method is a holistic, hands-on, experiential approach including special subjects such as Forensic Microbiology, Latin (spoken), Golf, Yoga, Character Education and so much more. The school is located in Westwood, New Jersey serving the greater Bergen County area including the surrounding counties: Rockland, Westchester, Passaic, Hudson, Essex, and Morris County. For additional information, visit the school online at: http://PrimorisAcademy.org.