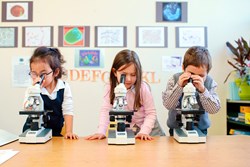 Primoris Academy's Winter Enrichment Program allows high-ability learners to experience advanced topics such as microbiology and forensic science.
Westwood, NJ (PRWEB) December 18, 2013
Primoris Academy is offering two different after-school enrichment programs to its students and to outside students. The programs start in January and run for 10 consecutive weeks. Enrollment into these classes is on a first come, first serve basis and space is very limited. Parents can register now to be considered for these exciting programs. Deadline for registration is 4:00 PM Friday, January 2, 2014.
Located in Westwood, New Jersey, Primoris Academy is an independent private school that places children into classes based upon ability, not chronological age. It is a unique educational environment where exceptional children can learn at an accelerated rate and reach their maximum potential. Even their youngest students are immersed academically and intellectually through a hands-on, experiential approach to teaching including special subjects such as Forensic Microbiology, Latin (spoken), Golf, Character Education and so much more included in their curriculum. Primoris Academy works to develop creative and critical thinking skills and to instill in each student a lasting love of learning.
Two News Programs Offered:
The enrichment programs offered by Primoris Academy are a natural extension to its curriculum taught during the school day. However, it also lets children who are not currently students of Primoris Academy also experience some of the same experiential learning techniques used at the school. The enrichment programs are taught by Primoris Academy teachers who are distinguished in educating advanced learners.
There are two programs being offered this Winter. One is expressly for non-Primoris students while the other is for both current Primoris Academy students and non-Primoris students.
BOOM! SPLAT! KABLOOEY!... Explosive Science! (ages 7~9):
Program Description: Students will take part in hands on science experiments that result in explosions making a (BOOM!), sending chemicals flying (SPLAT!) and giving off energy (KABLOOEY!). Students should come with an enthusiasm to learn and experiment. Examples of kinds of experiences students will carry out:

Discovering how to prevent a "splat" while testing a water balloon
Experimenting with an eight foot windbag to discover the properties of air
Releasing carbon dioxide from a soda bottle for the ultimate splat
Making an explosive CO2 sandwich
S.B.I. (Scientific Bureau of Investigation) (ages 4-11):
Program Description: Students will discover and learn advanced aspects of Microbiology. The students are called "Scientific Agents" in Training and are assigned a badge and learn the rules of the laboratory by learning the SBI Pledge. The class has been adapted to avoid live pathogens optimizing the student's safety.

Program Ages 4-6: Introduction to the world of Microbiology and Bacteriological pathogens. We create a human body diagram and introduce the most common "nasty germs" that make us sick in major areas of the body. Students will become familiar with cells, structure and what differentiates a bacteria from the other six kingdoms.
Program Ages 7-11 (new attendees only): Students will discover the world of Microbiology through microscopy and culture plates. In using hands on, laboratory techniques they will get a solid introduction into the realm of Bacteriology. We take understanding cellular structure and function to a granular level. Each student is assigned their own microscope and laboratory note books.
How to register:
Space is very limited for these programs and will be assigned on a first come, first serve basis. Deadline for registration is 4:00 PM Friday, January 2, 2014. For a registration form and more information, please visit their Enrichment Program webpage at: http://PrimorisAcademy.org/winter-school-enrichment-programs-announced or call the school directly at (201) 722-1000.