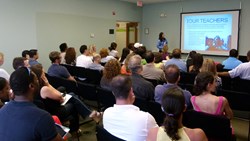 Primoris Academy is a unique learning environment where very bright children can reach their full potential in an engaging, nurturing, and intellectually challenging full-day school program.
Westwood, NJ (PRWEB) February 13, 2014
Primoris Academy is having two Open Houses this Winter for prospective students and their parents. Previous open houses were "standing room only" with over 80 people in attendance. This is an excellent opportunity to meet the school officials and some of the teachers, take a tour of the school, meet other families with precocious children. Siblings are permitted but not encouraged to attend.
When and Where:
Date: Saturday, February 22 and Saturday, March 23, 2014
Time: 3:00 to 4:30 PM
Place: Primoris Academy - 120 Washington Ave, Westwood, NJ 07675
Open House Agenda:

Meet and greet with light refreshments
Children go with teachers for fun activities
Formal presentation by school officials to parents
Questions and answers
Tour and departure
Registration is required to attend to attend either Open House. To sign up, please call the school at (201) 722-1000 Monday through Friday from 9:00 AM to 5:00 PM or visit their website at: http://primorisacademy.org/winter-2014-open-houses.
ABOUT PRIMORIS ACADEMY:
Primoris Academy is an independent private school that places children into classes based upon their ability, not their chronological age. They have a unique educational environment where bright children can learn at an accelerated rate and reach their maximum potential. Primoris Academy's teaching method is a hands-on, experiential approach including special subjects such as Forensic Microbiology, Latin (spoken), Golf, Yoga, Character Education and so much more. The school is located in Westwood, New Jersey serving the greater Bergen County area including the surrounding counties: Rockland, Westchester, Passaic, Hudson, Essex, and Morris County.