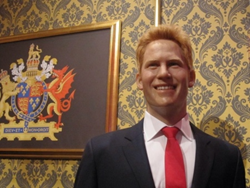 You do not want to leave a will, as Princess Diana did, unless you want the whole world about your family life after you shuffle off this mortal coil.
Boston, MA (PRWEB) October 30, 2014
It has been more than 17 years since Princess Diana and her millionaire Egyptian lover tragically perished in an auto crash while trying to flee from pernicious paparazzi in France (1). Diana was a divorced woman when she passed away, and she was adored by the British public who were enamored with her poise, grace and noble attitude towards being a member of the Royal Family and an important figure of the United Kingdom.
Diana's tender dedication to her two sons, Prince William and Prince Harry, and her commitment to charitable work after she became officially separated from her husband Prince Charles in late 1992 is fondly remembered by many people around the world (1). Diana openly confessed to her British subjects that she dealt with bouts of bulimia and depression during her painful separation and the gossip media storm that ensued. Notwithstanding her emotional condition, Diana was diligent insofar as her estate planning; in 1993 she left a will that in turn created a trust for her children (2), and then she filed a codicil in 1996 after her divorce was finalized (3).
With regard to the timeliness of Diana's estate planning, Rocco Beatrice of UltraTrust.com explains: "Princess Diana was reacting to significant life events such as separation and divorce. She thought about her children and her loved ones and did the right thing, which was to provision for her estate planning. In general, we do not tell our clients to wait until something major happens in their lives to start planning their estate; this is something that should be done as early in life as possible. However, we do advise our clients to review their estate plans whenever they go through events such as engagements, marriages, separation, divorce, child birth, college graduations, a death in the family, bankruptcy, etc. We can see that Diana followed a similar philosophy."
Mr. Beatrice is the Managing Director of Estate Street Partners, LLC, a firm dedicated to asset protection, wealth management and estate planning. Estate Street Partners owns and operates UltraTrust.com. Mr. Beatrice has reviewed the probate reports of the Princess Diana Estate, and has the following opinion on the matter: "Since Princess Diana left a will in a common law jurisdiction, her estate had to be probated and we got to learn quite a bit about her personal finances. The same situation applies to individuals in the United States: When they leave a will, they are opening the lives of their families to the public through probate court. Princess Diana was a Royal, and this condition probably called upon her to dispense with certain privacy measures, but the lesson here is that you do not want to leave a will unless you want the whole world about your family life after you shuffle off this mortal coil."
Indeed, financial news outlets such as Forbes magazine have written at length on the Princess Diana Estate and its probate proceedings, particularly in relation to the trust fund she created for her sons (4). One of Diana's most publicized wishes in her will was her wish to leave most of her net worth to Prince William and Prince Harry, but only after they had turned a certain age. Prince Harry, who is often labeled as the most desirable bachelor in the world, received half of his inheritance when he turned 25 because the executors filed a motion in probate court to delay the distribution until he turned 30, which is something that happened recently.
The remainder that Prince Harry received was estimated to have been around $17 million (4), which makes him an even more eligible bachelor. With regard to the trust Diana left, Mr. Beatrice explains: "Here's another example of good estate planning. You generally don't want to leave everything to your children unless they are grown and independent when you plan your estate. We don't know if Prince Harry is a good money manager or a profligate spender, but we were all young once and we can remember our careless attitude towards money management at that age."
Expanding on the above, Mr. Beatrice continues: "The only problem we see with Princess Diana's estate planning was her choice of a will. Perhaps that was the only legal instrument available to her as a Royal, but our office would have recommended our own UltraTrust®, which in essence is an irrevocable trust managed by a professional trustee and a trust protector. Has Princess Diana been able to create an irrevocable trust instead of leaving a will, we would have never known her net worth or how much she left and to whom. Most importantly, Prince Harry would have received his inheritance at the age of 25 if that is his mother wanted. We see in the probate records of this case that the executors compelled the court to deviate from the Princess' wishes. That simply does not happen with irrevocable trusts because they are never probated to begin with, and the trustee only takes instructions from you as the grantor."
About Estate Street Partners (UltraTrust.com):
For 30 years, Estate Street Partners has been helping clients protect assets from divorce and frivolous lawsuits while eliminating estate taxes and probate as well as ensuring superior Medicaid asset protection for both parents and children with their Premium UltraTrust® Irrevocable Trust. Call (888) 938-5872 to learn more.
#
1. Biography, October 18, 2014 (biography.com/people/princess-diana-9273782)
2. TrueTrust, October 18, 2014 (truetrust.com/Famous_Wills_and_Trusts/Princess_Diana_Will.html)
3. Living Trust Network, October 18, 2014 (livingtrustnetwork.com/estate-planning-center/last-will-and-testament/wills-of-the-rich-and-famous/codicil-to-the-last-will-and-testament-of-princess-diana.html)
4. Forbes, September 16, 2014 (forbes.com/sites/trialandheirs/2014/09/16/as-remainder-of-princess-dianas-estate-passes-to-harry-troubling-questions-remain/)