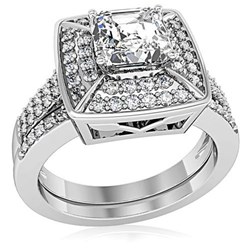 The Diamond Princess Cut Wedding Ring Set from InspiredSilver.com is a beautiful ring set!
San Francisco, CA (PRWEB) January 04, 2014
Inspired Silver has announced that it will be continuing to offer its very popular 2.00 Carat Princess Cut Wedding Set. The engagement ring represents a tremendous value for a stone of its size and features an incredible ring design.
The ring, which is made from white metal and finished in Rhodium, features a center stone that is one carat and is surrounded by smaller stones in two rows. The band matches these rows and is also encrusted with small stones as well. The stones themselves are clear cubic zirconia, weighing in at a total carat weight of two carats.
"It is an absolutely gorgeous engagement ring," said a representative with Inspired Silver. "All of those design elements work so incredibly well together; it is simply breath-taking."
Inspired Silver has long been known for making exquisite engagement rings such as this one, and the value that consumers receive in purchasing this ring is absolutely tremendous.
"It is almost criminal that the price point is so low for this ring," said the representative, who was speaking quite candidly. "I think we could sell this ring for two or three times the current cost. But, hey, that is a great deal for the buyers, right?"
The simulated diamond featured in the center of the ring is square-cut in brilliant fashion. The stones that surround it frame the stone in such a way that the eye is immediately drawn to it.
"We just love everything about this ring's design: The simulated diamond's cut, the stone that surround it, the matching band; it is perfect," said the representative. "It is simply a wonderful engagement ring, and anyone who purchases will most certainly agree."