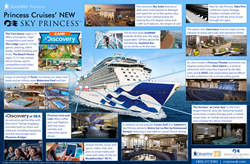 Learn about the incredible amenities onboard the all-new Sky Princess in The Cruise Web's latest infographic highlighting this new ship's most amazing features.
CALVERTON, Md. (PRWEB) October 09, 2019
Debuting on October 20, 2019, Sky Princess will sail her maiden voyage departing from Piraeus (Athens), Greece during a 7-day voyage to kick off her inaugural season sailing the Mediterranean Sea. As a sister ship to Regal Princess, Royal Princess, and Majestic Princess, she will be home to all of the wonderful amenities to which guests of these ships are accustomed. To learn more about the incredible amenities onboard the all-new Sky Princess, The Cruise Web has created an infographic to highlight her most amazing features.
Explore the brand new Sky Princess in The Cruise Web's infographic:
https://cruiseweb.com/cruise-lines/princess-cruises/ship-sky-princess#infographic
As a part of Princess Cruises' Royal-class, Sky Princess is one of the most technologically advanced ships on water, boasting MedallionNet wi-fi and the Ocean Medallion, a truly immersive experience that puts your cruise in the palm of your hand. Along with this, Sky Princess features a wide selection of cuisine at sea, giving guests the option to choose from classics like Alfredo's Pizzeria, seafood from the Ocean Terrace, prime cuts of steak at the Crown Grill, or French-inspired meals at the new Bistro Sur La Mer by Emmanuel Renaut.
In addition to eating well aboard Sky Princess, guests will never be short of things to do! The new Princess Live! theater hosts daily comedy acts to enjoy with a cocktail, or unique, nightly musical performances guaranteed to delight passengers. The entertainment continues at Take Five, the only jazz theater at sea, showcasing iconic Afro-Cuban jazz. Two of the most unique entertainment features on Sky Princess are the new original productions, Rock Opera and 5-SKIES—each of which blends music, dancing and special effects for an unforgettable show.
This beautiful ship also features three swimming pools, highlighted by the Wakeview infinity pool, which can be found on the aft-end of the ship–the perfect place for unforgettable views of the horizon.
Sky Princess will spend her first season in the marvelous Mediterranean, alternating 7- and 14-night itineraries between Barcelona and Rome.
Karolina Shenton, Vice President of The Cruise Web says: "We could not be more excited about everything the Sky Princess will offer. Mediterranean cruisers will be able to explore the old world, and "come back to new" every time they board this amazing ship." What could be more perfect!
In November, she makes a Transatlantic voyage to Port Everglades in Florida, where she will continue to alternate 7- and 14-night itineraries, this time in the Eastern and Western Caribbean.
To learn more about the all-new Sky Princess, contact one of The Cruise Web's expert consultants today!
About The Cruise Web
The Cruise Web is a travel agency specializing in cruise vacations. For over 20 years, The Cruise Web has served clients worldwide while taking the stress out of cruise vacation planning through a personal consultative approach. Experienced cruise consultants provide guests the best value for both their time and money. Contact The Cruise Web today at 1-800-377-9383 (toll-free) or 1-240-487-0155 (local), and visit The Cruise Web online at CruiseWeb.com for the best cruise deals.