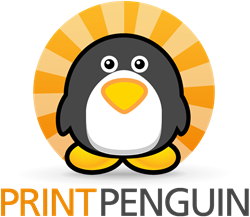 (PRWEB) July 04, 2014
The sleek and stylish design of this new online presence is going down exceptionally well with new and existing customers all over the country thanks to increased promotion and a lot of market research. While other printing companies tend to go overboard with their websites, this new addition from Print Penguin looks set to take the industry by storm. As they offer an ever-increasing array of top quality printed products to companies and individuals all over the UK, expect to see big things from this brand in the near future.
Some of the most popular products are listed below.
Business Cards: Regardless of personal requirements, Print Penguin aim to provide their clients with the best quality product available today. As business cards provide an enticing glimpse into the nature of a company, its crucial extra care is taken to ensure to include the right information is put across about the business.
Leaflets and Flyers: All business owners need to promote their products and latest offers, right? Opting to purchase flyers or leaflets can be the perfect solution, and Print Penguin can handle the creation of these in bulk to suit every need.
Business Stationery: To portray the correct image for any business its essential to make sure that business stationery i.e. letterheads and compliment slips not only look the part but also the actual printed quality is up to scratch. Their is nothing worse than receiving a letter through from a company printed on cheap paper using a word template.
Roller Banners: Most company owners will attend trade shows from time to time, and so it's important they have all the right promotional items to ensure they attract attention. For that reason, choosing to design and order some roller banners could be sensible. Many businesses can also find use for these inside their premises, perhaps in client waiting areas.
Posters: In much the same way as roller banners can be used for promotion, so can posters. No matter what size of poster is required, Print Penguin has the equipment and expertise to fulfill any requirements.
Signage: Whether it's large signs for the exterior of a business premises or something completely different for a business exhibition, Print Penguin has a range of products ideally suited.
Owned and operated by RFK Solutions Ltd, Print Penguin is based in central Scotland and has been involved in web design and printing for the last ten years. As they place extra emphasis on quality, no customer or client ever walks away disappointed. In fact, the dedicated team of professionals employed by this company pride themselves on ensuring they always receive good feedback. So, if any problems occur with any of the orders they'll work day and night to put things right.
Prices are extremely competitive, and that's because the people behind Print Penguin have spent a long time building relationships with suppliers. That means they get very impressive rates and are able to pass savings on to their clients. While this is a small company, they always guarantee ordered will be delivered on time, and promise never to stop until the work is done.