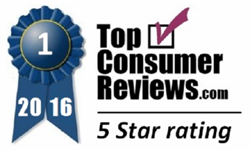 If you need ink for your printer, Carrot Ink should be your first choice... In 2016, our top ranking among retailers of Printer Ink goes to Carrot Ink.
Overland Park, KS (PRWEB) November 01, 2016
TopConsumerReviews.com recently gave a best-in-class 5 star rating to Carrot Ink, a leader among online sellers of Printer Ink.
From the typical household to large corporations, it seems that everyone needs printer ink. When deciding where to purchase printer ink, many shoppers are turning to online stores to get the same products available in brick-and-mortar stores locally at much more competitive prices. Whether customers need original equipment manufacturer (OEM) cartridges or compatible generic brands, most online retailers of printer ink can meet the need, often guaranteeing the quality of both the printer ink and the resulting printouts of text and images.
"If you need ink for your printer, Carrot Ink should be your first choice," said Brian Dolezal of TopConsumerReviews.com, LLC. "With printer cartridges at discounts of up to 70% below standard retail prices and a 100% satisfaction guarantee, it's hard to see why you'd want to shop anywhere else. Available printer brands include all of the top names - Canon, HP, Dell, Brother, Xerox, and many more - and every cartridge and refill kit is manufactured according to the strictest quality standards. Also, if you need your printer ink in a hurry, all orders placed by 4PM Eastern are shipped same-day. Carrot Ink has a no questions asked return policy, making it risk-free to give their service a try. In 2016, our top ranking among retailers of Printer Ink goes to Carrot Ink."
To find out more about Carrot Ink and other Printer Ink retailers, including reviews and comparison rankings, please visit the Printer Ink category of TopConsumerReviews.com at http://www.topconsumerreviews.com/printer-ink/.
About Carrot Ink
In 1998 John and Amy Howard founded Carrot Ink on the belief that quality inkjet cartridges shouldn't cost more than your printer. Fed up with paying printer manufacturers' prices, they challenged themselves to do it better and cheaper than the big guys. They found that they could offer a premium product without a premium price tag. In fact, high quality Carrot Ink sells for 30-80% less than that of the name brands. When you shop at Carrot Ink you can count on the best quality compatible and remanufactured inkjet cartridges. Every Carrot Ink Brand product that hits your doorstep has been manufactured under stringent ISO 9001/2000 standards. Shop with peace of mind knowing Carrot Ink backs everything they sell with a one year money back guarantee.
About TopConsumerReviews.com
TopConsumerReviews.com, LLC is a leading provider of independent reviews and rankings of hundreds of consumer products and services. From Printer Ink to Online Backups and Personal Loans, TopConsumerReviews.com delivers in-depth product evaluations in order to make purchasing decisions easier.