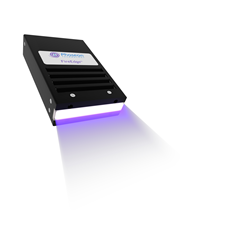 Hillsboro, Oregon (PRWEB) August 25, 2014
Michael Beck, Director of Sales for Americas at Phoseon Technology will be presenting Advancements in UV LED Curing Performance for Digital Printing at the NIP30/Digital Fabrication conference on September 8th. The conference takes place at the Sheraton Philadelphia Downtown September 7-11. The goal of the conference is to bring together everyone working in the printing ecosystem—teachers, researchers, developers, practitioners, manufactures, distributors—to share ideas, learn from each other, and discover ways to collaborate to ensure the continued growth and success of this important manufacturing sector.
Ultraviolet (UV) curing lamps based on Light Emitting Diode (LED) technology have progressed to the point that they represent a mainstream curing technology in the UV digital inkjet printing market. The historical obstacles of lamp power, cost, and optimized ink chemistry have largely been resolved and the result is a quantum leap in performance resulting from the inherent characteristics of properly designed UV LED lamps: high power, extremely long lifetime, exceptional reliability, consistency and uniformity of UV output, far lower heat load on the curing surface, superior health, safety, and environmental protection, and dramatic reduction in energy.
While bringing the three-tiered benefits of UV LED curing (advanced capabilities, operating economics, and environmental advantages), Phoseon's products add additional capability with superior performance, integrated control, and outstanding reliability for customer's tough curing environments.
About Phoseon Technology
Phoseon Technology is the world leader in providing UV LED solutions for commercial and industrial applications. Phoseon's products deliver maximum UV energy, high performance, and real-world reliability for UV LED curing of adhesives, coatings and inks. The Company provides worldwide sales and support capabilities and can be reached at http://www.phoseon.com.