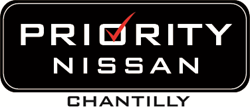 This is a little bit like a homecoming for me. Dennis Ellmer, President and CEO of Priority
Chesapeake, VA (PRWEB) November 17, 2014
Priority Automotive has purchased Nissan of Chantilly and has renamed the dealership Priority Nissan Chantilly. This is Priority's fourth Nissan dealership bringing the company's total new car franchises to 15. The new dealership opened its doors as Priority Nissan on November 6 and is located at 14840 Stonecroft Center Road in Chantilly.
Steve Sarecky, Nissan of Chantilly's General Manager, will continue as General Manager for the new dealership.
Priority Nissan Chantilly will include the popular Priorities For Life value-added package with each new car and truck. Priorities For Life includes oil and filter changes and state inspections for life, towing for life, and engines guaranteed for life. Like other Priority dealerships, Priority Nissan Chantilly will give free manicures on Wednesdays and provide many other services not found in most car dealerships. To learn more, visit http://www.prioritynissanchantilly.com.
Commenting on his newest acquisition, Dennis Ellmer, President and CEO of Priority said, "This is a little bit like a homecoming for me. I spent many years in the Washington, DC market before coming back to Hampton Roads to launch Priority Automotive. So, I know the market and our team knows Nissan. We're looking forward to making this store as successful as the other Priority dealerships. And we continue to look for new dealership opportunities that make sense for us."
ABOUT PRIORITY AUTOMOTIVE
Priority Automotive was founded in 1999 by Dennis Ellmer with the acquisition of Chevrolet and Toyota dealerships in Chesapeake, Virginia. Today Priority owns and operates Priority Toyota/Scion, Priority Honda, Priority Chevrolet, Priority Acura, and Priority Hyundai in Chesapeake and the Priority Indoor Super Store in Virginia Beach. Priority also owns Priority Toyota/Scion, Priority Nissan, Priority VW, Priority Collision Repair Center, Priority Used Car Super Center and Priority Sales and Service Center in Richmond, as well as Priority Honda in Charlotte, NC and Hampton, VA plus Priority Nissan in Newport News, Williamsburg and Chantilly. Priority has more than 200,000 Priorities For Life customer throughout Virginia and North Carolina and employs more than 900 people. For more information, visit http://www.priorityauto.com
##