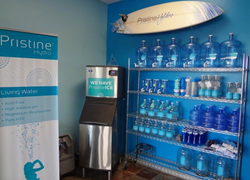 We Are the Industry Leader in Pristine Water Filtration Systems
LAGUNA WOODS, CA (PRWEB) December 02, 2015
Pristine Water Filters (http://www.pristinewaterfilters.com/) clients can be rest assured that their Water Revival Advanced Filtration Systems will produce pure water that is 100% Chemical Free, Acid Free and Fluoride Free, High Alkaline pH, Structured, and Properly Mineralized with a High Magnesium Bicarbonate Content brings You the Absolute Best Water on the Planet.
Pristine Water Filters Flouride Removal, Reverse Osmosis, Deionization & Mineralization H2o Vortex System As Seen On The Discovery Channel Via Newswatch TV
Pristine Water Filters follows a 10 Stage Water Filtration Process.

Stage One - 5 Micron Filter
Stage Two - KDF
Stage Three - Hydroxy Apatite
Stage Four - Coconut Based, Acid-Washed, Surface-Enhanced Activated Carbon
Stage Five - Reverse Osmosis
Stage Six and Seven - Dual Deionization Cartridges
Stage Eight - Re-Mineralization Cartridge
Stage Nine - Coconut Carbon Filter
Stage Ten - Vortex / Reprogramming / Recharging
Pristine Water Filters delivers to the following geographical areas:
Alabama, Alaska, Arizona, Arkansas, California, Colorado, Connecticut, Delaware, District of Columbia, Florida, Georgia, Idaho, Illinois, Indiana, Iowa, Kansas, Kentucky, Louisiana, Maine, Maryland, Massachusetts, Michigan, Minnesota, Mississippi, Missouri, Montana, Nebraska, Nevada, New Hampshire, New Jersey, New Mexico, New York, North Carolina, North Dakota, Ohio, Oklahoma, Oregon, Pennsylvania, Rhode Island, South Carolina, South Dakota, Tennessee,Texas, Utah, Vermont, Virginia, Washington, Washington DC, West Virginia, Wisconsin, Wyoming, Canada, Europe, and virtually anywhere on the planet.
PristineHydro™ delivers water filters for the home and businesses making healthy water accessible to all at cost levels and form factors. The professionals at PristineHydro™ are highly informed regarding the history of water and how these products can enhance the consumer's life. It is no wonder so many professional athletes and health enthusiasts are turning to PristineHydro™ for their hydration needs.
For more information please visit http://www.pristinewaterfilters.com or by calling toll free (888) 240-1175