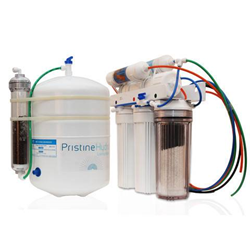 We are inspired that the Pristine Water Filters Review segment airs along side the Interviews with the Cast Members of the Movie "Steve Jobs".
Laguna Woods, CA (PRWEB) October 15, 2015
Pristine Water Filters (http://shop.pristinewaterfilters.com) delivers water filtration/revival systems to all homes and businesses across the planet. With the support of healthcare professionals, advisors, and athletes, PristineHydro™ presents a unique water revival technology available in travel/portable, counter-top, and under-counter models as well as an advanced chilled water brewing system.
PristineHydro™, developed by Glen Caulkins, has now gained worldwide recognition with its advanced water revival system technology. The segment airs Friday, October 16, 2015 on NewsWatch TV. The NewsWatch Television episode airs on the Discovery Channel at (7:00-7:30AM EST/PST), except on DISH Network, which only airs in EST.
PristineHydro™ has also gained global popularity amongst celebrities such as Kelly Slater - 11 Time ASP World Tour Champion, David "Avocado" Wolfe - Rock Star and Indiana Jones of the superfoods and longevity universe, Cub Swanson - MMA / #4 Featherweight in the World, Georgi Karakhanya - WSOF Featherweight Champion, Robert Francois - Former Linebacker and Super Bowl Champ for the Green Bay Packers, Laila Amaria Ali – retired undefeated American professional boxer and daughter of heavyweight boxing legend Muhammad Ali, and many more which are too many to name.
Since water purification isn't regulated, the consumer can never be sure the bottled water they are purchasing is truly free of contaminates. PristineHydro™'s water is not only filtered to waters natural purity, but is also is infused with high levels of magnesium bicarbonate, delivering water that is healthy with a smooth, exceptional taste. Infusing the water with magnesium bicarbonate is helpful to health since a whopping 80% of the population is known to be magnesium deficient. Originally, magnesium bicarbonate was found in nature's water but though the industrialization of mankind, the drinking water generally available now is deficient of this important mineral content.
Pristine Water Filters delivers to the following geographical areas:
Alabama, Alaska, Arizona, Arkansas, California, Colorado, Connecticut, Delaware, District of Columbia, Florida, Georgia, Idaho, Illinois, Indiana, Iowa, Kansas, Kentucky, Louisiana, Maine, Maryland, Massachusetts, Michigan, Minnesota, Mississippi, Missouri, Montana, Nebraska, Nevada, New Hampshire, New Jersey, New Mexico, New York, North Carolina, North Dakota, Ohio, Oklahoma, Oregon, Pennsylvania, Rhode Island, South Carolina, South Dakota, Tennessee,Texas, Utah, Vermont, Virginia, Washington, Washington DC, West Virginia, Wisconsin, Wyoming, Canada, Europe, and virtually anywhere on the planet.
PristineHydro™ delivers water filters for the home and businesses making healthy water accessible to all at cost levels and form factors. The professionals at PristineHydro™ are highly informed regarding the history of water and how these products can enhance the consumer's life. It is no wonder so many professional athletes and health enthusiasts are turning to PristineHydro™ for their hydration needs.
For more information please visit http://www.pristinewaterfilters.com or by calling toll free (888) 240-1175
References:
water.usgs.gov/edu/waterquality.html
who.int/water_sanitation_health/dwq/en/
realrawfood.com/article/magnesium-deficiency-syndrome
nutritionalmagnesium.org/magnesium-and-cardiovascular-disease
webmd.com/heart-disease/news/20001109/got-magnesium-those-with-heart-disease-should