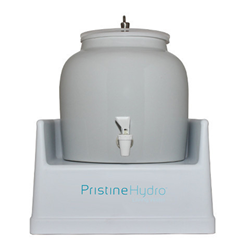 We Are the Industry Leader in Pristine Water Filtration Systems
California (PRWEB) February 02, 2016
PristineHydro is excited to announce their latest addition to their product line. The Counter Top Water Revival Filter system will be offered Nationwide. Their Counter Top Water Filter system is much more compact, has a removable two gallon crock & makes up to 10 gallons of water per day.
All of PristineHydro's Water Revival Units (http://shop.pristinewaterfilters.com/) produce 100% acid and contaminate free pristine water with a TDS of 60 PPM, that has a high magnesium bicarbonate content, with traces of calcium, sodium, and chloride bicarbonates. All PristineHydro's Water Revival Systems use the same proprietary filters.
The Counter Top and Travel/Portable Revival Systems have two Standard Deionization Cartridges. Both Deionization Cartridges (Standard and/or High Capacity) need to be changed at the same time on all Water Revival Systems.
In 2009, U.S. consumers purchased 8.45 billion gallons of bottled water:

Bottles used to package water take over 1,000 years to biodegrade and if incinerated, they produce toxic fumes. It is estimated that over 80% of all single-use water bottles used in the U.S. simply become "litter."
Recycling is only feasible in limited circumstances because only PET bottles can be recycled. All other bottles are discarded. Only 1 out of 5 bottles are sent to the recycle bin.
U.S. landfills are overflowing with 2 million tons of discarded water bottles alone.
It takes over 1.5 million barrels of oil to meet the demand of U.S. water bottle manufacturing. This amount of oil far exceeds the amount needed to power 100,000 for a year, which does not include fossil fuel and emissions costs of green house gases needed to transport the final product to market.
It is estimated that actually 3 liters of water is used to package 1 liter of bottled water.
PristineHydro's™ Counter Top water purification (http://shop.pristinewaterfilters.com/) systems follow a 10 Stage Water Filtration Process.
Stage One - 5 Micron Filter
Stage Two - KDF
Stage Three - Hydroxy Apatite
Stage Four - Coconut Based, Acid-Washed, Surface-Enhanced Activated Carbon
Stage Five - Reverse Osmosis
Stage Six and Seven - Dual Deionization Cartridges
Stage Eight - Re-Mineralization Cartridge
Stage Nine - Coconut Carbon Filter
Stage Ten - Vortex / Reprogramming / Recharging
Pristine Water Filters delivers to the following geographical areas:
Alabama, Alaska, Arizona, Arkansas, California, Colorado, Connecticut, Delaware, District of Columbia, Florida, Georgia, Idaho, Illinois, Indiana, Iowa, Kansas, Kentucky, Louisiana, Maine, Maryland, Massachusetts, Michigan, Minnesota, Mississippi, Missouri, Montana, Nebraska, Nevada, New Hampshire, New Jersey, New Mexico, New York, North Carolina, North Dakota, Ohio, Oklahoma, Oregon, Pennsylvania, Rhode Island, South Carolina, South Dakota, Tennessee,Texas, Utah, Vermont, Virginia, Washington, Washington DC, West Virginia, Wisconsin, Wyoming, Canada, Europe, and virtually anywhere on the planet.
PristineHydro™ (https://www.youtube.com/watch?v=A4j4uHquBPs) has also been featured on The Discovery Channel Via Newswatch Tv.
PristineHydro™ delivers water filters for the home and businesses making healthy water accessible to all at cost levels and form factors. The professionals at PristineHydro™ are highly informed regarding the history of water and how these products can enhance the consumer's life.
It is no wonder so many professional athletes and health enthusiasts are turning to PristineHydro™ for their hydration needs.
For more information please visit http://www.pristinewaterfilters.com or by calling toll free (888) 240-1175