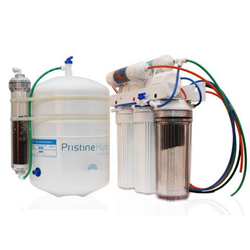 This unique water filtration/revival is done in 10 stages designed according to our patent pending process.
Laguna Woods, CA (PRWEB) July 06, 2015
PristineHydro (http://www.pristinewaterfilters.com) has developed the first Water Revival System that eliminates 100% of all acids, chemicals and impurities; it also properly mineralizes the water with electrolyte salts.  Common tap water is not suggested for drinking water because it contains harmful contaminants.  These harmful contaminants are a byproduct of how the water is treated chemically.  In response, PristineHydro has introduced the first water filtration system that is 100% environmentally friendly and regulated unlike bottled water.
 
Pristine Water Filters offers this unique water filtration/revival that is done in 10 stages designed according to their patent pending process.  The first step in the filtration process is to remove dust, particles and rust sediments followed by KDF, Hydroxy Apatite and coconut based, acid washed surface enhanced activated carbon which reduces a variety of pesticides and chemicals lingering in the water.  The water then moves through the middle phase and removes any remaining pollutants down to .001 microns.  The dual deionization cartridges remove harmful acids in the water like sulfuric and nitric acid (acid rain) and hydrofluorosilicic acid (industrial grade fluoride added to water). The water then forced through a Re-mineralization cartridge, which increases the pH level and adds all of the necessary minerals needed to properly hydrate the body.  
 
The water processes through a coconut carbon filter, which enhances the flavor and lastly the water is vortexed as if it were being run along a natural stream to restructure, recharge and reprogram the water into its original natural form.  With this announcement, Pristine Water Filters introduces the first water filtration system that eliminates all unhealthy chemicals and impurities while properly re-mineralizing drinking water, thus empowering consumers with a better source of drinking water which is central to better health and longevity.  Only PristineHydro offers this type of environmentally conscious filtration/revival system that reinvigorates life through water.
To review PristineHydro's Water Filter System's please visit http://shop.pristinewaterfilters.com/collections/all or by calling toll free (888) 240-1175