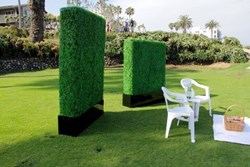 Increased inventory dramatically to keep up with demand.
San Marcos, CA (PRWEB) September 26, 2013
Privacy hedge is soundproof, UV resistant, and non-fading.
Geranium Street Floral of San Marcos, CA provides privacy hedge to customers including set designers, contractors, individual home owners, event companies, LEED, FF&E, and more. Geranium Street Floral has provided premium television shows with artificial hedge mats for their set, among others. The company is currently providing a Beverly Hills homeowner with thousands of hedge mats to cover the walls surrounding his property.
Privacy hedges are becoming popular because they can be put up quickly, look fantastic, and require almost zero maintenance. Geranium Street Floral only sells the best UV resistant privacy hedges that don't fade in the intense Southern California sun.
Bob Smith, Owner of Geranium Street Floral started the business by providing artificial foliage and flowers to equestrian events, and was surprised when he started getting calls for his product from other types of customers. "I started this business primarily for equestrian events, but it has become so much more. Much of that has to do with interest from customers in LA and New York in the entertainment business," he said.
Smith says that he has increased his inventory dramatically to keep up with the demand.
Geranium Street Floral has a whole range of artificial foliage products including artificial boxwood hedge mats, artificial boxwood bushes, topiary balls, and fake bamboo. The company has many videos online that show how to install the hedge mats and other products. Geranium Street Floral can also custom build large or small hedge panels to customer's specifications.
Geranium Street Floral keeps up with the demand from the creative force of designers, builders, architects, television producers, hotel renovators, and rental companies in the commercial sector. Residential and commercial customers with privacy concerns from Big Brother watching, drones, politics, and noisy neighbors, are requesting more and more privacy hedging, fencing, mats and other sound proof products.
Related News from Geranium Street Floral.
Related Hashtags:
#Privacy #BigBrother #PrivacyHedge #BigBrother #BreakingNews #Sound #SoundProof #NY #CA #LA #SF #FL #Retweet #Like #Share #FakePlants
Related Search Terms:
Privacy Hedge, Big Brother, Boxwood Privacy Hedge, Artificial Plants, Fake Plants, Boxwood, Topiary, Soundproof Privacy Hedge