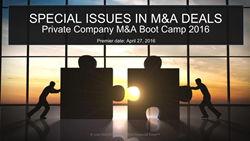 Transactions involving the purchase and sale of a business, by their nature, tend to be more complicated than many other transactions. They become more complicated when there are "special issues" involved;
CHICAGO, IL (PRWEB) April 20, 2016
Corporate transactions (or "deals") include many types of transactions. One of the most significant types of transactions a company can enter into is a deal to buy another company or to sell itself. This type of deal, an M&A (merger and acquisition) deal, typically requires more work from accountants and attorneys than do many other deals. This webinar series features leading M&A attorneys and other "deal" professionals speaking at a fairly basic level about transaction structures; tax planning issues; shareholder and board of directors approval; representations and warranties and indemnifications; earn-out provisions; antitrust issues; intellectual property issues; employment issues; financing issues; confidentiality agreements; letters of intent and term sheets; due diligence and preparation of disclosure schedules; closing; and post-closing tasks.
All of these issues are discussed in plain English, and while the series is valuable for seasoned professionals in many fields (law, accounting, investment banking, etc.) who practice in this area, it is also be easily understandable for business owners who have not previously been through this process.
As with all Financial Poise™ webinars, each episode in the series is designed to be viewed independently of the other episodes, and listeners will enhance their knowledge of this area whether they attend one, some, or all of the programs.
Episode #4 of the series is "Special Issues in M&A."(Register Here.) Moderator Peter Feinberg of Hoge Fenton will be joined by panelists Lori Anne Czepiel of Meister Seelig & Fein, Alexander Davie of Riggs Davie, David Sikes of Jones Day, and Brandt Brereton of Brereton, Hanley and Company.
Transactions involving the purchase and sale of a business, by their nature, tend to be more complicated than many other transactions. They become more complicated when there are "special issues" involved; special issues can mean a variety of things. For example, the purchase of a company by an employee stock ownership plan (ESOP), (b) the purchase of a distressed company, and (c) the sale of a company to a private equity fund. Transactions involving each of these circumstances adds its own special layer of complexity. This webinar provides a solid overview of how these circumstances change the dynamics of a deal.
ABOUT FINANCIAL POISE™:
Financial Poise™ provides unbiased news, continuing education, and intelligence to private business owners, executives, investors, and their trusted advisors. For more information contact Emily Goldin at egoldin(at)financialpoise(dot)com or 312-469-0135.