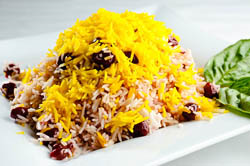 Enjoy a taste of both worlds, Middle Eastern flavors and Mediterranean specials!
Cupertino, CA (PRWEB) January 23, 2015
Arya Global Cuisine is inviting couples to celebrate Valentine's Day together at the Middle Eastern restaurant in San Jose. All weekend long, Arya will have special, romantic dinners, live music and belly dancing.
To start the weekend off on Friday, Feb. 13, couples can enjoy a romantic candlelit dinner with Arya's special a la carte menu. The entertainment for the evening will include smooth jazz music and belly dancing.
On Valentine's Day, Saturday, Feb. 14, Arya will serve a special, romantic four-course dinner. The first course will be a Mediterranean meze platter and falafel and humus. The second course is insalata di amore. For the third course, guests will have a choice of one of the following: vege tower, pollo Madera, baghali polo with lamb shank, vegetarian platter, koobideh combination, ravioli aragosta, chicken shish kebab, shish like, shish kebab or red velvet salmon. The fourth course will be a dessert platter. The dinner costs $70 per person, plus tax and tip.
Valentine's Day entertainment will include smooth jazz, Persian music and belly dancing at the Cupertino location. At the Redwood City location, there will be smooth jazz music and belly dancing.
On Sunday, Feb. 15, couples will enjoy a romantic candlelit dinner with Arya's a la carte menu to end the special weekend.
For more information on the Valentine's Day festivities at Arya Global Cuisine, visit their website at http://aryarestaurant.com/.
About the company:
San Jose's Arya Restaurant is a Middle Eastern restaurant that features belly dancing, global cuisine, and delicious and exotic Persian and Italian food. With two locations in Redwood City and Silicon Valley/Cupertino, the restaurant is the result of Chef Mike Hashemi's love for Persian and Italian food, as well as his love for cooking and serving people with the best of both worlds. Arya's San Jose banquet rooms are available for every occasion as well as corporate catering and private dining. Arya is the premier Persian restaurant in Cupertino and Redwood City, California. They are committed to providing each and every guest with superior service and a pleasant dining experience. For more information, visit their website at http://aryarestaurant.com.