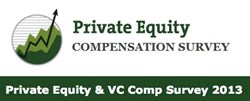 Without the direct input of PE and VC pros, it would be difficult to benchmark annual compensation trends and practices.
San Diego, CA (PRWEB) October 02, 2013
The seventh annual Private Equity Compensation Survey has opened, and investment professionals in venture capital and private equity are encouraged to participate in this vital review of compensation practices in the industry.
The online survey should take about five minutes to complete and can be found at the Private Equity Compensation Survey website at http://www.pecompsurvey.com. In return for contributing to the most comprehensive survey within the industry, eligible participants who complete it will receive secure access to the final 2014 Private Equity Compensation Report (valued at $397) when published.
"With the direct input of Private Equity and Venture Capital professionals, we benchmark compensation trends and practices," says David Kochanek, Executive Director at Benchmark Compensation. "By collecting data from employees and partners at firms both large and small, we're able to get not only a snapshot of salaries, but also look more deeply into areas like bonuses, carried interest, work culture, job satisfaction and fund performance. It is simply the most comprehensive study of its kind."
About The Survey
The Private Equity Compensation Survey is currently open to participants in the Private Equity and Venture Capital industries. Data is collected directly from private equity and venture capital partners and employees from firms of all sizes. Some of the individuals participating in past surveys represented well-known firms, including: 3i, Actis, American Capital, Babson Capital Management, Bain Capital, BlackRock, Clairvest, CPP Investment Board, Deutsche Bank, EDC Equity, EdgeStone Capital Partners, Highland Capital Partners, Kaiser Permanente Ventures, North Atlantic Capital, RBS, Safeguard Scientifics, SV Life Sciences and Time Warner Investments.
About Benchmark Compensation
The annual survey is conducted by Benchmark Compensation, a provider of unbiased compensation studies and services. Since 2007, the firm has published the most accurate and affordable reports in investment-related industries. In addition to annual compensation reports, the firm also provides customized data analysis and consulting.