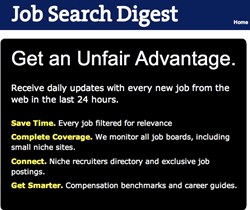 See real-life examples of resumes—the good, the bad, and the downright ugly—and learn how to optimize them to win coveted financial jobs.
San Diego, CA (PRWEB) August 12, 2013
New MBA graduates and seasoned professionals alike may find it easier to get a foot in the door by participating in JobSearchDigest.com's resume writing training session, fine-tuned for pursuing a career in the highly competitive finance industry. Career expert Debra Wheatman will lead the free, one-hour webinar, which will take place August 13th at 1:00 p.m. Eastern (10:00 a.m. Pacific). The number of participants is limited, so early registration is suggested.
Reserve a space today.
JobSearchDigest.com is pleased to welcome Wheatman as the session's presenter. She is a Certified Professional Resume Writer and Certified Professional Career Coach, and has extensive experience working with finance professionals at all levels to create road maps for career success. Wheatman is a frequent contributor to television and print media and authors "The Career Doctor" blog.
Participants in the session will learn how to avoid mistakes people commonly make when preparing resumes, as well as receive specific recommendations that they can use to make immediate improvements to their own.
"Feedback we received from previous attendees was loud and clear, and we listened," said David Kochanek, publisher of Job Search Digest. "Participants wanted to see more real-life examples of resumes—the good, the bad, and the downright ugly—and learn how to optimize them to win coveted financial jobs."
This webinar is open to a limited number of participants on a first-come, first-served basis. Reserve your space today by registering at https://www2.gotomeeting.com/register/276622522.
All registered participants who complete the August 13 session will be eligible to win one of two exclusive bonuses: a one-on-one consultation with a professional career coach to review his/her resume; or a full year of a Job Search Digest Premium subscription of his/her choice. Two winners will be selected from the group of participants after the session.
About JobSearchDigest.com
Since 2002, Job Search Digest has provided web-based career services catering to investment professionals. JobSearchDigest.com serves its members by providing a human-edited investment jobs database for Private Equity, Hedge Fund and Investment Banking professionals. Its database provides the best picture of hiring in the industries it covers. The company provides unmatched convenience to its members, saving them time and providing the most comprehensive database of jobs.