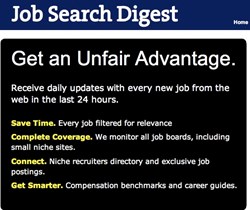 Many Wall Street employers factor financial modeling skills into their search for the perfect candidates.
San Diego, CA (PRWEB) October 10, 2013
Breaking into Wall Street takes mad skills. To get that competitive edge, join JobSearchDigest.com for a free, online financial modeling training session. Through a case study of the LBO of Kinetic Concepts, participants will learn the ins and outs of a real-world leveraged buyout. Presented by Brian DeChesare, the session begins at 1 p.m. Eastern (10 a.m. Pacific) on October 15, 2013. Be sure to sign up today for this no-cost learning opportunity as attendance is limited.
Says David Kochanek, publisher of Job Search Digest, "We know that many Wall Street employers factor financial modeling skills into their search for the perfect candidates. Based on feedback from both employers and applicants, we create training sessions like this that teach job seekers how to quickly build the LBO models they're likely to encounter in interviews and how to answer case study questions."
Kochanek continues, "Thanks to our sponsor, Breaking into Wall Street (BIWS), there is no charge for this valuable session. Our presenter, Brian DeChesare, is the founder of BIWS and MergersandInquisitions.com."
This webinar is open to a limited number of participants on a first come, first served basis. Reserve your space today by registering at http://www.jobsearchdigest.com/insidethefirm/lbo-training/.
Participants in the webinar will learn four critical skills:
1. How to quickly simplify and streamline elements of the LBO model.
2. How to project an Income Statement and Cash Flow Statement.
3. How to set up and link debt schedules to the rest of the model.
4. How to calculate IRR and answer case study questions.
All registered participants who complete the October 15 session will be eligible to win exclusive bonuses. One will receive full access to the complete Breaking into Wall Street Financial Modeling program (a $347 value!); three participants will receive a Job Search Digest Premium subscription of his/her choice (a total worth $291!); and one participant will win an iPad worth $499!
About JobSearchDigest.com
Since 2002, Job Search Digest has provided web-based career services catering to investment professionals. JobSearchDigest.com serves its members by providing a human-edited investment jobs database for Private Equity, Hedge Fund and Investment Banking professionals. Its database provides the best picture of hiring in the industries it covers. The company provides unmatched convenience to its members, saving them time and providing the most comprehensive database of jobs.