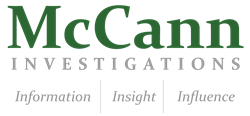 Austin, TX (PRWEB) April 29, 2014
McCann Investigations, a firm specializing in high-quality digital security and private investigation services throughout Texas, announced that it provides its Austin clients with fraud investigations aided by some of today's latest surveillance and forensics technologies.
Because fraud cases weigh so heavily on evidence found in digital sources, it's extremely important that investigators have access to high-quality technology to use in their investigations. McCann provides its Austin investigators with all of the necessary tools and training to get the job done in an efficient manner so that their clients can be spared some of the most harmful effects of fraud.
"We strongly believe that remaining on the cutting edge of technology enables us to provide a higher level of service to our clients," said Daniel Weiss, Managing Partner at McCann Investigations. "This philosophy has directly influenced the successes we've had in our fraud investigations in Austin."
The main technologies used by the firm in fraud investigations are surveillance technologies and digital forensics tools. For surveillance, McCann's investigators use a range of remote viewing and other covert surveillance tools, which they can use to track the activities of targets with a great deal of accuracy.
Digital forensics is a key part of any private investigation, particularly in fraud. McCann's Austin investigators comb through the digital footprint of the investigation target to uncover evidence that may have been left behind on computers and mobile devices in sources such as social media, photos, notes, documents, texts and more.
"Our Austin investigators have been thoroughly trained in high-tech methods of investigation," said Weiss. "These are true experts in the field providing our clients with an extraordinary level of service."
For more information about the services provided by McCann Investigations in the Austin area, visit the company's website at http://www.mccanninvestigations.com and follow the company on Twitter at @mccangi.
About McCann Investigations
McCann Investigations is a Texas-based private investigations practice focused on comprehensive investigations incorporating digital forensics, surveillance, undercover work and background checks for clients in various case types. Service areas include intellectual property theft, non-compete enforcement, fraud, embezzlement and family law. McCann Investigators are experts in the latest computer forensics tools and are licensed with the state of Texas. McCann examiners have provided expert testimony and reporting in hundreds of cases across the state.