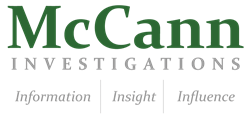 Our investigators are true professionals who not only are great at what they do, but they love to do it.
(PRWEB) November 18, 2013
McCann Investigations, a digital security and private investigations firm based in Texas, recently announced that it now provides its private investigations services to clients in the San Antonio area.
McCann's private investigation services cover a wide range of areas, including network and digital forensics, property theft investigation, background checks, embezzlement investigation, traditional surveillance and many other tasks as needed for each individual client.
"Businesses that have need for private investigators in San Antonio will appreciate the expertise and professionalism that our investigators have to offer," said Daniel Weiss, Managing Partner at McCann Investigations. "All of our investigators have undergone a significant amount of rigorous training and are at the top of their fields."
Firms of all sizes have need for investigation services, particularly when there are legal issues at stake. McCann has lent its private investigations expertise to the court system for matters of family law, criminal defense, prosecution and more.
Additionally, McCann's experts are able to take the evidence they uncover in these investigations and use them to give expert testimony in court cases. They are able to clearly explain the significance of their findings to judges and juries who would not otherwise understand the technical nature of the evidence discovered.
"Our investigators are true professionals who not only are great at what they do, but they love to do it," said Weiss. "We are pleased to be able to bring these services to San Antonio, and we look forward to helping new clients with their investigations."
For more information about the services provided by McCann Investigations in the San Antonio area, visit the company's website at http://www.mccanninvestigations.com and follow the company on Twitter at @mccangi.
About McCann Investigations
McCann Investigations is a Texas-based private investigations practice focused on comprehensive investigations incorporating digital forensics, surveillance, undercover work and background checks for clients in various case types. Service areas include intellectual property theft, non-compete enforcement, fraud, embezzlement and family law. McCann Investigators are experts in the latest computer forensics tools and are licensed with the state of Texas. McCann examiners have provided expert testimony and reporting in hundreds of cases across the state.