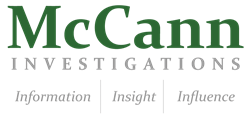 McCann Investigations is fortunate to employ numerous highly skilled private investigators
Houston, TX (PRWEB) August 01, 2013
McCann Investigations, a firm based out of the Houston , TX area, announced its private investigations services.
The firm's private investigations encompass a wide variety of fields, including digital forensics, traditional surveillance tactics, network forensics, embezzlement investigation, intellectual property theft investigations, background checks and more.
"McCann Investigations is fortunate to employ numerous highly skilled private investigators," said Daniel Weiss, Managing Partner at McCann Investigations. "These experts have undergone significant training in numerous focused fields of investigation, making them extremely qualified in numerous methods of evidence gathering."
McCann Investigations has been called to employ private investigations services in cases such as contentious divorces, suspicious insurance claims, criminal defense cases and more. Each type of case requires a unique set of investigation methods and skills, all of which are offered by the firm.
The experts of the Houston area private investigation firm are also often called to be expert witnesses in court cases. As experts in their fields, McCann's investigators are able to explain the evidence discovered in their investigations in an easy-to-understand way for the judge and jury on the case.
"Many court cases hinge on the evidence gathered by our private investigators," said Weiss. "We are pleased to offer all of our services at competitive rates, delivered by skilled investigators who are truly passionate and knowledgeable about what they do."
For more information about the services provided by McCann Investigations in the Houston area, visit the company's website at http://www.mccanninvestigations.com and follow the company on Twitter at @mccangi.
About McCann Investigations
McCann Investigations is a Texas-based private investigations practice focused on comprehensive investigations incorporating digital forensics, surveillance, undercover work and background checks for clients in various case types. Service areas include intellectual property theft, non-compete enforcement, fraud, embezzlement and family law. McCann Investigators are experts in the latest computer forensics tools and are licensed with the state of Texas. McCann examiners have provided expert testimony and reporting in hundreds of cases across the state.