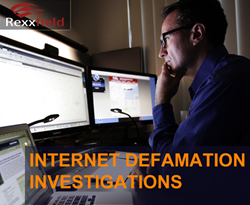 It is critical that incognito defamers be positively established early in litigation...
New York, NY (PRWEB) September 14, 2013
Today Rexxfield's Internet Investigation Team announced augmentation of its Internet Slander Private investigator service, with the hiring of new investigative support members.
Rexxfield was the world's first and foremost professional Private Investigator Company to specialize in Internet slander. Rexxfield value adds internet defamation lawsuits which might be in peril through the respective attorney's inability to positively identify anonymous adversaries who take cover under a cloak of anonymity.
Rexxfield creator and CEO Michael Roberts declared "It is critical that anonymous defamers be positively established early in litigation, generally there are a variety of difficulties that emerge if a matter stalls on this particular problem. Very significantly, vital evidence can disappear like IP address log documents and other types of electronic artifacts, which nearly always can't be found till the identity of the undisclosed individual is uncovered."
About Rexxfield CEO Michael Roberts:.
Rexxfield's Managing Director Michael Roberts is a professional private investigator, reporter, social forensics and Digital analysis support specialist.