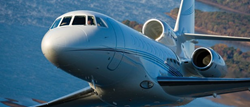 We plan to lower the barrier-to-entry into the prestigious world of air charter
Van Nuys, CA (PRWEB) April 01, 2014
ALG Aviation, the premier private aviation services company based in Los Angeles, announced recently it will utilize the services of The Charter Portal as its sole agent to sell and book private air charter flights.
The Federal Aviation Administration (FAA) recently notified ALG Aviation it will soon undergo the certification process to offer air charter flights. The company plans to complete the certification process, in conjunction with the FAA, by May 1. Once the certification process is complete, ALG Aviation can operate out of its hub in Van Nuys Airport throughout destinations in California, Nevada and Arizona.
"With fixed-priced rates to popular destinations throughout the region, ALG Aviation's air charter division will offer a fast and economical option to business and leisure travelers alike, and our firm is ready to connect customers with this great company," quotes Mike Grigorian, managing agent for The Charter Portal.
"We'd like to offer a premium service at terms that make sense to our clients," says Zohrab Grigorian, director of operations for ALG Aviation. He adds, "With low fixed-price rates, we plan to lower the barrier-to-entry into the prestigious world of air charter and offer our clients honest world-class service that the ALG brand is known for!"
Both The Charter Portal and ALG Aviation place utmost importance on safety of their clients. Grigorian adds, "Aviation safety is a key factor in our partnership."
"Aviation safety is of paramount importance," says Zohrab. "As a former airline pilot, I know that we only have one shot to do things right, and plenty of opportunity exists to get it wrong." To assure a safe operation, ALG plans to adapt many of the rules that apply to larger operators and the scheduled airlines and implement industry best-practices throughout the operation.
The Charter Portal offers private charter jets for business trips or vacations and can handle each detail of the trip. Skip the hassle of flying commercial and schedule a private plane through The Charter Portal. Ask about The Charter Portal's available jets and schedule a flight by calling 818-672-6924 or visiting: http://www.privatejet-charters.com
About the Company:
The Charter Portal is the number one source for luxury private jet charter flights throughout the world from approved air charter operators. They work with only the best aircraft charter operators in the industry: those that meet rigorous safety and security standards, and whose operation can support their clients' unique demands.
Charter Portal understands planning for air travel can be stressful at times. They work hard to serve and ensure that all of their clients' needs are met. The extensive process of selecting the best air charter operator is fully centered on the clients' needs and requirements.